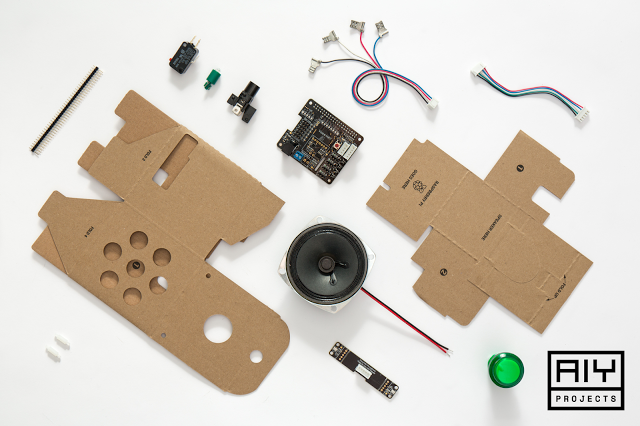 Everything that comes in the Google DIY voice kit. Image credit: Google
Google has launched the first in a series of do-it-yourself artificial intelligence (AI) development kits targeted at makers looking to use AI in their projects.
The AIY Project will be useful for makers looking to make human-to-machine interaction more like human-to-human interactions, Google says. The first reference kit will be voice recognition. Using the kit, makers could replace physical buttons and digital displays on household appliances and consumer electronics, replace smartphone apps to control devices or add voice to assistive robots to simplify the interface for users.
The open-source voice kit includes the instructions necessary to build a voice user interface (VUI) that can use cloud services or run completely on a device, Google says. Using a Raspberry Pi and the hardware in the kit for audio capture and playback, makers use connectors for the dual mic daughter board and speaker, GPIO pins to connect low-voltage components like micro-servos and sensors and an optional barrel connector for dedicated power supply.
Makers could also run Android Things on the voice kit with full functionality for easy to prototype Internet of Things devices and scale to full commercial products, Google says. The voice kit will ship to all MagPi Magazine subscribers and Google has published a parts list, assembly instructions, source code and extensions on a dedicated website. The kit is also available at Barnes & Noble stores in the U.S. and at WH Smith, Tesco, Sainsburys and Asda stores in the U.K.
While Google says there are other kits in the works, it has not released any information about what it plans next. Makers are encouraged by Google to use the hashtag "#AIYprojects" on social media to help it find inventions made from the kit and the company will also take feedback during the upcoming San Mateo Maker Faire on May 19-21.