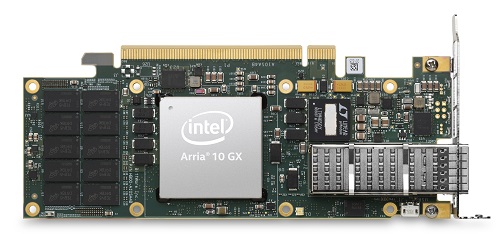 The Intel Programmable Acceleration Card with Arria 10 GX FPGA is now being ported to servers. Source: IntelIntel Corp. has announced that the first major use of reprogrammable silicon chips in the enterprise sector has happened as major OEMs have adopted the technology for a new type of data center.
Intel field programmable gate arrays (FPGAs) are being used as the foundation for new data center servers that handle a variety of workloads from analytics to financial services. Servers are using Intel's Xeon Scalable processors to work in tandem with an accelerator to support data-intensive performance requirements within specific functions in a workload.
Among the OEMs adopting this strategy are Dell EMC and Fujitsu that will incorporate a complete Intel hardware and software stack in their individual offerings, consisting of Intel Programmable Acceleration Cards with Arria 10 GX FPGA and the Intel Acceleration Stack for Intel Xeon Scalable processor with FPGAs.
The Dell EMC PowerEdge R640, R740 and R740XD servers incorporate Intel FPGA acceleration and are available now in volume deployment with more to come. Dell EMC says FPGA acceleration allows operators to tackle the operating expense constraints while still achieving scale, performance and adaptability.
Another OEM is Levyx, a data processing big data firm, that built an Intel FPGA-powered server for back testing for financial institutions.