Microsoft Research and its search engine service Bing are betting on programmable logic to deliver a more energy-efficient software-defined data center, with Altera FPGAs being used to accelerate web-search document ranking on servers.
Microsoft has presented research in a paper titled "A Reconfigurable Fabric for Accelerating Large-Scale Data Center Services" that was presented last week at the 41st International Symposium on Computer Architecture (ISCA) held in Minneapolis.
The paper makes the point that reconfiguration of FPGAs has not been widely deployed in servers, or elsewhere, because the reconfiguration time is typically too long to support frequent logic updates. However, it goes on to describe a reconfigurable fabric, called Catapult embedded into each half-rack of 48 servers in the form of a small board with a medium-sized FPGA and local DRAM attached to each server. FPGAs are directly wired to each other in a 6 by 8 two-dimensional torus.
Catapult was evaluated by using the web search function to drive its requirements. The full Catapult system comprised 1,632 servers, each one with an Intel Xeon processor and a daughter card that contains a Stratix V D5 FPGA. The system receives search queries from Bing and off-loads the work to the FPGAs, which were programmed to perform the computation of how to rank web pages. The researchers had a system-level target of producing a factor of two improvement over software in the number of documents ranked per second per server.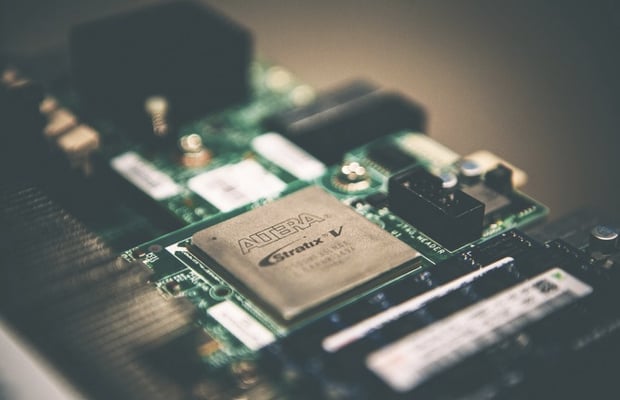 Stratix V FPGA does the heavy lifting for Xeon in Microsoft's Catapult.
The Stratix V D5 FPGA includes reconfigurable logic, on-chip memory blocks, and DSP units. The servers were each based on an Intel Xeon dual-socket 12-core Sandy Bridge CPU with 64-Gbytes of DRAM, two SSDs and four HDDs. This may give some weight to the idea that Intel is considering adding Altera FPGAs in-package to future datacenter processor offerings (see Intel to Package FPGA with Xeon Processor).
"The performance requirements for today's large data center workloads are outstripping what general-purpose servers can provide, so we ran a pilot using Altera technology to deliver more acceleration than software running on servers alone," said Doug Burger, a research director specializing in client and cloud applications at Microsoft Research, in a statement issued by Altera. "Compared to a pure software implementation, our reconfigurable acceleration fabric permitted a 90 percent improvement in throughput at each ranking server, with great system stability. A satisfying and positive result."
Having conducted a successful experiment Microsoft plans to let Bing roll out FPGA-accelerated servers in one of its data centers early in 2015.
Altera said that is software-defined data center offering would include the Stratix 10 FPGAs and SoCs which are being manufactured for the company by Intel using its 14nm FinFET process. "Adding fine-grained FPGA acceleration to the compute fabric advances data center capabilities beyond what commodity server designs can provide," said Michael Strickland, director of the compute and storage business unit at Altera, in a statement.
Related links and articles:
News articles:
Intel to Package FPGA with Xeon Processor
Processors Focus on Data Center at ISSCC
Xilinx to Demonstrate FPGA Acceleration Technology at IBM Conference