The term "Industry 4.0" was first coined in 2011. It was used to describe the next wave of innovation to penetrate manufacturing technologies. With robotic welding cells, additive manufacturing and automated manufacturing methods being facilitated by cloud computing and the internet of things, these advanced technologies have transformed the industrial sector and impacted the business model.
Industrial Internet of Things (IIoT)
The industrial internet of things (IIoT) has penetrated everything from lighting systems, HVAC systems and security systems to manufacturing technologies and preventative maintenance programs. They incorporate a network of smart devices that are designed to operate interactively or autonomously with each other.
Driven by advanced system on chip (SoC) solutions, IIoT continues to penetrate a wider audience as more and more devices are now packaged with real-time operating systems, graphical user interfaces and advanced networking and security platforms. They accumulate an enormous amount of data, allowing facilities to realize efficiency gain as they migrate away from systematic programs and begin to operate autonomously.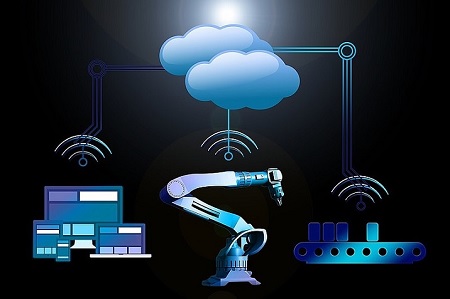 The secret sauce lies within artificial intelligence (AI). The accumulated data provides keen insight and, as powerful as big data is, the advanced computing capacity required to draw a meaningful conclusion is being done by AI.
AI is a step above systematic programming. It is the intelligence driving IIoT. It evaluates options, calculates probabilities and makes smart decisions. Whereas IIoT is the body that provides input and carries out physical actions, AI is the brain. They work together eliminating waste, improving efficiency gains and create a sustainable process.
The Digital Manufacturing Cell
As more and more operations are automated, it has become cheaper to manufacture and easier to debug deficiencies. Robotic welding cells identify maintenance needs, reducing the frequency of equipment failure, and while capital expenditure is significantly higher, goods are being produced economically.
Benefits of Additive Manufacturing
Additive manufacturing (AM) was developed out of a need to decrease lead times associated with functional prototype development. As reduced cycle times allowed for rapid design iterations, there has been added design flexibility during the product development phase.
AM technologies have since evolved and are now penetrating the production phase. Manufacturers are able to produce finer details and eliminate or control internal porosity. Inherent benefits including design flexibility, part count reductions and a wider selection of engineered polymers that exhibit exceptional performance characteristics.
Strategic Partnerships
If it wasn't a factor before, the fourth industrial revolution has emphasized the need to reduce the time to market. The business proposition has focused on value-added services and as more and more manufacturers re-evaluate the production cycle, it has been more and more common that product launch is facilitated by a strategic partner who produces the necessary technology needed to drive their next product launch.
Conclusion
The winners in the industrial sector have prevailed with a quicker time to market and lower cost of production. They have benefited from next-generation manufacturing cells, and while this was partially brought on by a limited skilled workforce, the advantages of going digital go far beyond supplementing an inadequate workforce, even to revamping the business model.