Since the first industrial revolution in the 18th century, manufacturing has revolutionized in waves. The advent of steam power brought about the first massive shift in manufacturing, while the second revolution was spurred by electricity and assembly line manufacturing. The manufacturing industry is currently facing the fourth industrial revolution. Industry 4.0 stems from developments in Industry 3.0, which was when manufacturers started automating entire production processes.
There are many costs and benefits associated with precision machining, and as 4.0 continues to evolve, it will become necessary for precision machining to adapt to these changes. The main change in Industry 4.0 is the evolution of digital technologies and how they can be used to transform manufacturing processes even further.
New technologies will enable manufacturers to become more efficient and intelligent. Autonomous production, the cloud, the industrial internet of things (IIoT) and artificial intelligence (AI) will become integral in the fourth industrial revolution.
The main driving factors for advancement in Industry 4.0 include digitalization, data analysis and customer success. Interconnectivity between all the data a company collects can be used to streamline and automate processes. Adequate data collection and analysis can be difficult with siloed data but are essential for a business to thrive.
The fourth industrial revolution is integrating new technologies with production and manufacturing processes. CNC machines in Industry 4.0 will be equipped with sensors to monitor and respond autonomously as needed. Machines will be able to self-diagnose issues through analysis of system performance and analytics. In this way, Industry 4.0 presents many opportunities and challenges.
The major components of precision machining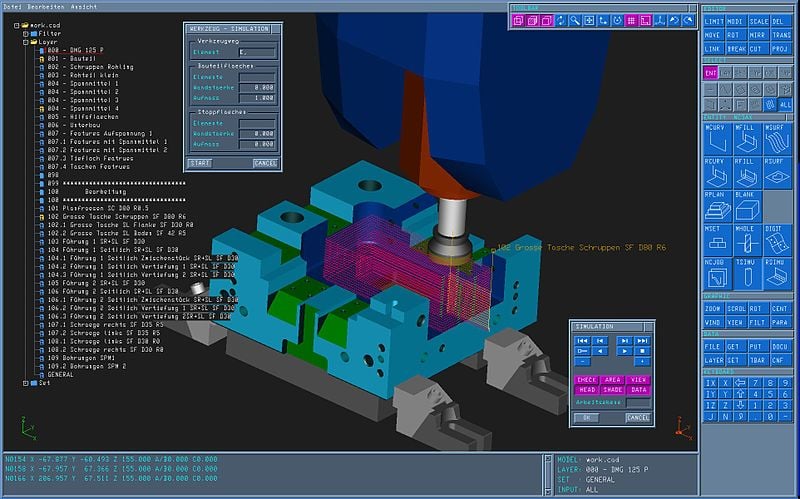 Screenshot of CAD software. Source: CNCFräser/CC-BY-SA-3.0-DE
Precision machining removes excess material from a workpiece through cutting to create a final piece that adheres to strict specifications. The parts are produced by using computer-aided design (CAD) software and computer-aided manufacturing software (CAM) is used to program the machining of the part. Based on the CAD file, the software generates code that determines:
The correct RPMs and feed rates
How to move and coordinate the cutting tool and workpiece
When coolant is required
Many small parts used in various industries favor precision CNC machining. The most important reason for using precision machining is to produce complex parts with higher precision and accuracy. These parts can be used in the production of a wide range of industries, including electronics, automotive, aerospace and medical.
A variety of surface finishes can be produced with precision machining, as well as exceptionally smooth surface finishes. Tolerances range from ±0.00508 to ±0.0127 mm. Additionally, once a tool path has been programmed, a CNC machine is capable of scaling to high volume production allowing for repeatability.
Shifting perspectives in Industry 4.0
The advent of Industry 4.0 hopes to create a manufacturing environment where all processes in a factory can be connected through the IIoT. Sensors, machines, applications and various instruments will be able to communicate with each other and respond in real-time. This will allow companies to make decisions based on real-time data and improve the efficiency of the entire manufacturing process.
The fourth industrial revolution will affect precision machining in how new processes are being implemented. It is expected that the current focus on productivity and quality will shift to more value-added products and services, while reducing the cost of production. In this regard, Industry 4.0 will help to achieve these goals.
Manufacturing procedures are becoming increasingly complex. It is expected that a wide range of technologies will emerge that will make it easier to measure, control and improve processes. Industry 4.0 will also enable new ways to monitor, measure and manage the entire lifecycle of products, from raw materials to end-of-life disposal.
Increasing use of automation and IIoT
The IIoT can be used to create a connected, intelligent factory. With all machines connected to each other via the cloud, data analysis aptly follows. At this point, AI can step in to quickly respond to issues that do not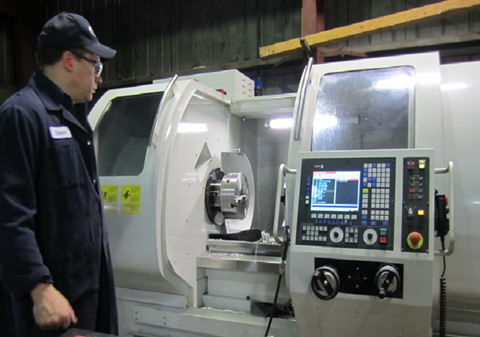 Machinist observing CNC lathe. Source: Somesomething243/CC-BY-SA-4.0 require human input and assessment.
Automation will help to reduce the number of human errors in manufacturing. The IIoT will allow machines to work together in teams. Industry 4.0 will help to integrate different processes into one manufacturing environment. This will help to reduce the number of errors that occur during the manufacturing process.
Competing manufacturing methods
The global manufacturing industry is undergoing a transformation. For years, manufacturers have relied on the use of manual processes and human labor to produce their products. These methods have been successful in producing high-quality products at low costs. However, there are some drawbacks. For example, manual processes are not always efficient, and they can be very time-consuming. In addition, these processes are prone to human error.
3D printing is a relatively new technology that uses digital design files to create physical objects. It has the potential to be used for mass production of parts, as well as customized designs. Recent advancements in 3D printing have made it easier for manufacturers to use additive manufacturing for their machining needs.
As the additive manufacturing space continues to grow with the advent of Industry 4.0, subtractive manufacturing methods may face competition. However, hybrid methods that combine both subtractive and additive machining have emerged. Precision CNC machining can be used to create more desirable surface finishes and tolerances than with additive manufacturing.
3D printing is already being used in many industries, including aerospace, automotive and consumer goods. It is also being used in medical fields, such as orthopedics, dentistry and surgery.
The bottom line
Industry 4.0 will be a leap forward for precision machining. It will improve the efficiency of manufacturing processes and will help to reduce human errors, though other manufacturing methods might become more viable and compete with traditional precision machining methods. In this next revolution, multiple sources of data can be integrated into one manufacturing environment to help businesses make decisions faster and more accurately. This will lead to better quality products, which will result in higher profits and productivity.