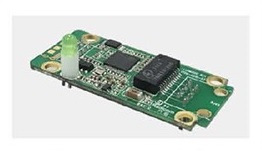 Source: Radicom Research, Inc.Radicom's LUHM300 Series low-power USB 3.0-to-Gigabit Ethernet adapter is a highly integrated device with a small form factor. The module features a USB 3.0 PHY transceiver and controller, a powerful pipeline RISC engine, a Gigabit Ethernet controller, advanced power management features, simple plug-and-play operation and a wake-on-LAN function.
The USB device interface is USB Spec 1.1, 2.0 and 3.0 compliant supporting super, high and full speed modes. The Gigabit Ethernet controller offers 10/100/1000 Mbps connectivity. It supports both parallel detection and auto-correction with embedded SRAM for receiver and transceiver packet buffering.
Other features include:
Wake-on-LAN function supports suspend mode and remote wakeup
Supports dynamic power management
Supports AutoDetach power saving modes
Features an integrated power-on reset circuit
The module offers a simple plug-and-play Gigabit Ethernet connection capability for desktops, notebooks, docking stations, game consoles, digital home appliances and other embedded systems.