Newark has reached a new distribution agreement with Gateworks to stock rugged, industrial specification single board computers (SBCs). Gateworks' SBC products benefit users by significantly contributing to a low system failure rate in the field. The devices are in stock and available to buy now from Newark.
The Gateworks family of SBCs is an important addition to Newark's portfolio as Gateworks products are ideal for use in rugged conditions. Designed from the ground up with components that can withstand shock, vibration, electrostatic discharge and transient voltages in harsh and high temperature environments, Gateworks ensures delivery of high reliability devices.
Engineers use Gateworks SBCs with user-selectable wireless radio to create swift and easy custom internet of things (IoT) or Edge Gateway.
The products provide useful system diagnostic capabilities such as critical voltage rail and board temperature monitoring circuitry. Another benefit is an external watchdog timer that can hard power cycle the board in the event that its application software becomes unresponsive.
Newark's initial product portfolio of the 'Venice' range of industrial SBCs includes a 64-bit ARM CPU, Mini-PCIe slots, multiple Ethernet and an industrial temperature rating from -40⁰ C to 85⁰ C. Multiple Mini-PCIe slots offer extreme flexibility and allow for a wide variety of wireless options, including Wi-Fi 6/6E, sub-1 GHz 802.11AH HaLow, 5G cellular, BLE Bluetooth, Iridium Satellite and 802.11 (A/B/G/N/AC/AX).
All Venice SBCs feature:
NXP i.MX8M Mini Cortex-A53 64-bit ARM 1.6GHz Quad Core Processor with DDR4 DRAM
Real time clock with coin cell battery
Voltage and temperature monitor
Wide range DC input voltage of 8 V to 60 V
Linux software support for Ubuntu and Buildroot
Low power draw of 3 W to 8 W
Fan speed control
A selection of products from the Venice family now available for fast delivery from Newark include:
Venice GW7200 SBC — 7th generation Venice family of SBCs targeted for rugged and industrial embedded applications. A 70 mm x 100 mm i.MX8M mini-SBC with two Mini-PCIe Slots, two GbE Ethernet, power over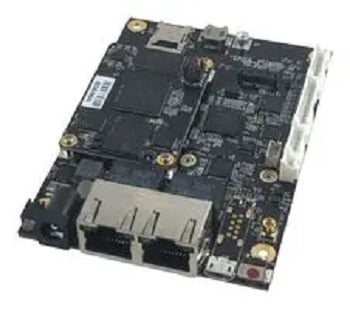 Source: Newark Ethernet, GPS and MIPI-CSI and MIPI-DSI and the 64-bit NXP i.MX8M Mini Quad Core ARM Cortex A53 system on chip (SoC) processor operating at 1.6 GHz. 1 GBytes of LPDDR4 DRAM, and 8 GBytes of eMMC System Flash are standard along with a very wide range of expansion, I/O and power options.
Venice GW7400 SBC — Includes the capabilities of the GW7200 but its i.MX8M Plus SoC also features a Neural Processing Unit (NPU) operating at up to 2.3 TOPS; a Video Processing Unit (VPU) supporting up to 1080p60; a GC7000UL Graphics Processing Unit (GPU); and a Cadence Tensilica HiFi 4 DSP. Six total Gigabit Ethernet ports offer 1x WAN and 5x switched LAN wired connectivity. A wide range of expansion and digital I/O, analogue Input, audio, video input/output and further expansion options are available.
Gateworks also offers many accessories and adapter boards to make system integration easier, such as:
GW16141 adaptor card — A Mini-PCIe to M.2 adapter designed to allow support of M.2 cellular modems on Gateworks SBCs. Embedded cellular modems are available in many form factors, including Mini-PCIe and M.2. These adapters allow M.2 B-Key cellular modem cards to be plugged into a Mini-PCIe slot on a Gateworks SBC. The adapters come in different variants for different types of signaling. The GW16141 is used for higher bandwidth modems that require USB 3.0 signaling.
Supports M.2 sizes: 1630, 2230, 3030, 2242, 3042, 3050, 3052
Customized variations are also available to support other M.2 peripherals
Operating temperature ranges from -40° C to 85° C
One year warranty
Dimensions are 30.0 mm x 66 mm x 6.2mm (1.18 in x 2.59 in x 0.24 in)
Gateworks range of rugged SBCs are available from stock at Newark in North America, Farnell in EMEA and element14 in APAC.