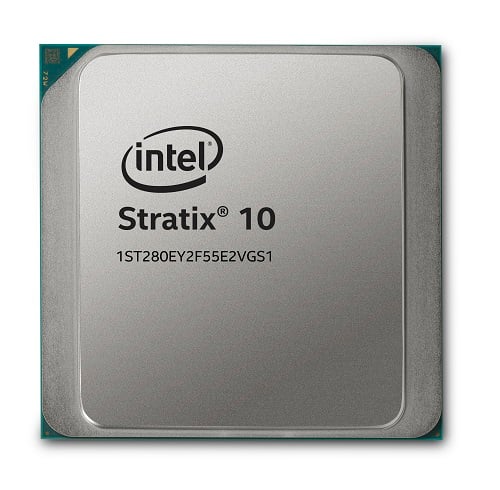 The Intel Stratix 10 TX. Source: IntelIntel Corp. has begun shipping its Intel Stratix 10 TX field programmable gate array (FPGA) with 58 G PAM4 transceiver technology.
The chip doubles the transceiver bandwidth performance compared to traditional solutions making it applicable for optical transport networks, network function virtualization (NFV), enterprise networking, cloud service providers and 5G network applications.
The FPGAs provide up to 144 transceiver lanes with serial data rates of 1 to 58 Gbps and enables designers to scale to 100 G, 200 G and 400 G delivery speeds. The new infrastructure can reach 58 G data rates while staying backward-compatible with existing network infrastructure and features a range of hardened intellectual property cores, including 100 GE MAC and FEC.
The Intel Stratix 10 FPGA family uses Intel's 14 nm FinFET manufacturing processes and uses EMIB packaging technology.