FPGA vendor Xilinx has begun sampling its first 20-nm product and the first 20-nm IC manufactured by foundry Taiwan Semiconductor Manufacturing Co. Ltd. (TSMC).
Xilinx did not provide details of the size of device it is shipping, but it calls it an Ultrascale device. The Ultrascale architecture has been defined to allow designs to scale from 20-nm planar production through to 16-nm FinFET production and to benefit from both monolithic and 3-D IC design capabilities.
The Ultrascale architecture is aimed at data center computation, networking applications at optical transport network rates of up to 400Gbits per second as well as demanding DSP functions in wireless radio. Other applications could include 4K and 8K displays and image processing. Xilinx describes its architecture as "ASIC-class" and says that it works with the Vivado Ultrafast version of its design software and "enables 1.5 TO 2 times more realizable system-level performance and integration."
The initial 20-nm device taped out in July and although samples are shipping now, these are restricted. General sampling is due to begin in the first quarter of 2014. Xilinx did not indicate when volume production would be available, which could depend on the ramping of yield at TSMC.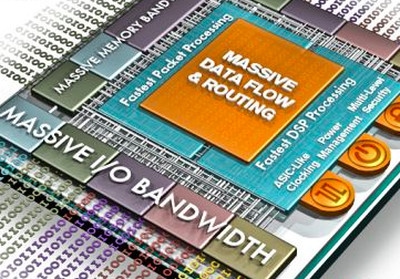 However, the Vivado Design Suite with early-access support for ultraScale devices is available.
"This announcement underscores our first-to-market leadership commitment of delivering high-performance FPGAs," said Victor Peng, senior vice president and general manager of products at Xilinx, in a statement.
Xilinx may have temporarily grabbed a lead over FPGA rival Altera Corp., but in 2014 Altera is expected to sample mid-range FPGAs based on TSMC 20-nm process technology and high-end FPGAs based on Intel's 14-nm FinFET manufacturing process. This could give the lead to Altera.
At the time of its announcement of Arria 10 (mid-range) and Stratix 10 (high-end) products, Altera said in a statement: "Initial samples of Arria 10 devices will be available in early 2014. Altera will have 14nm Stratix 10 FPGA test chips in 2013 and Quartus II software support for Stratix 10 FPGAs and SoCs in 2014."
Related links: