At CES 2018, taking place in Las Vegas last week, you could find just about any gadget or gear you are looking for regardless of whether it is for a smartphone, tablet, television, automobile and much more.
Some of the more interesting aspects to the largest electronics show are the latest cool advances in drone technology. Drones have come a long way in a short amount of time. So much so they are rapidly being deployed for the use of delivery of goods and packaging, being used for survey and exploration of industrial sites and have become a cool way to take photos and videos for both professionals and amateurs alike.
Naturally at CES, there were a host of cool, new drones that will lead the way in the consumer space for 2018. Here are the best of what was introduced at the show:
1) AEE's Selfly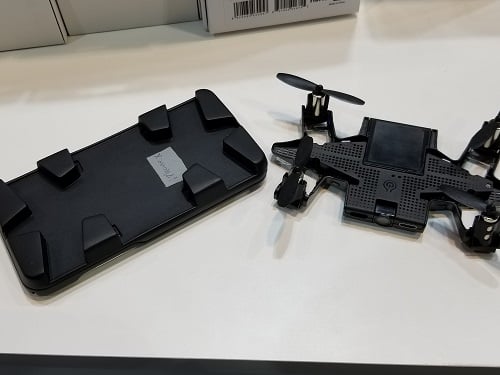 The Selfly is lodged in the case of a smartphone for easy transportation.Chinese consumer electronics vendor AEE had a big show at CES, introducing a number of new drones. These include the palm-sized Mach 1 consumer drone with 4K video and 13 megapixel camera its all-in-one foldable Mach 2 drone with 4K/30fps resolution; the Mach 4 heavy payload drone; and its AirSelfie2.
But the neatest one of all was the Selfly drone, a new concept that merges a drone with a smartphone case. Here is a drone that is contained within the case itself and can be taken out and deployed for hands-free photos on the go. The copter blades fold down into the case and the entire thing can be placed on the back of a smartphone for easier carrying.
Now it doesn't last long (about 8 minutes of flight time on standard batteries) and can't take super high quality photos (it has an ultimate resolution of 1080p), but for those that want to travel light while taking photos from high above, this is a great option.
2) GDU's O2 Plus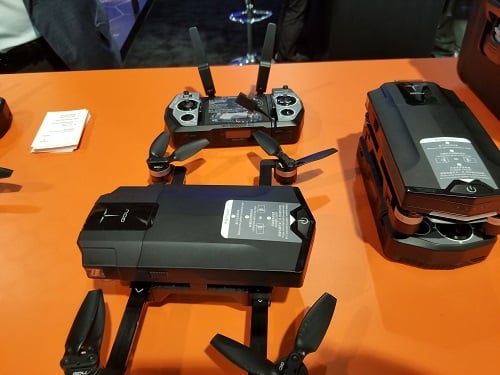 The O2 Plus uses sliding arms to fold into a compact body for easy transportation.Similar to the Mach 2 drone from AEE but on a bigger level was GDU's O2 Plus, a 4K drone that is for everyone and can be folded into a convenient on-the-go platform. The O2 Plus folds from a large drone to a compact case that can be easily stashed in a backpack or other carrying item.
The drone features a flight time of 20 minutes with built-in obstacle avoidance and three-axis stable video capture. The key to the drone's ability to fold is the sliding arm technology. Instead of folding arms that leave the props and rotors exposed during transit, the O2 Plus has sliding arms that hide the props inside the body, so it not only takes up less space but makes it safe for carrying as well.
Currently, the O2 Plus is available for pre-order with shipping expected in the first quarter of this year priced at $732.
3) Sublue's Whiteshark Mix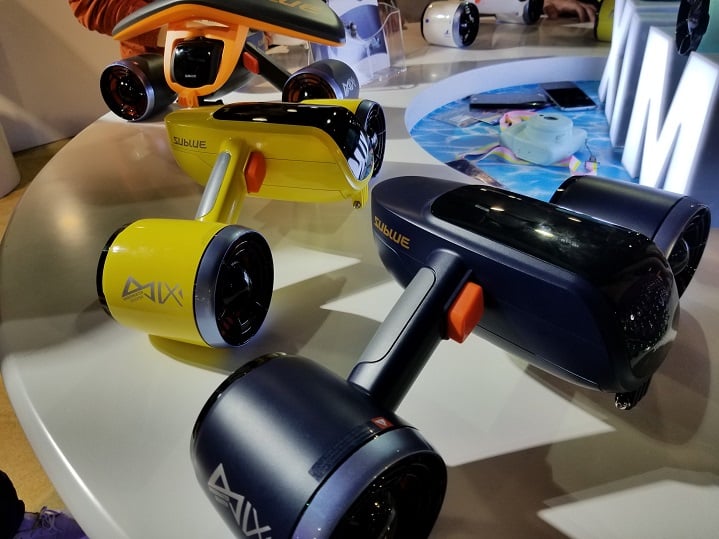 The Whiteshark Mix is the first underwater scooter drone with double propellers.You like to swim so why not take it to the next level with a new underwater scooter that can help you reach new depths. Sublue's Whiteshark Mix is a new swimming companion that is the first to include double propellers, and is small enough to be placed in an overhead bin on an airline.
The Whiteshark Mix weighs six pounds and can travel to a depth of 130 feet using a lithium-ion battery. The double propellers deliver up to 17 pounds of thrust, providing a fun experience for experienced or novice users. It even can interface with a GoPro camera to record your experience. The Mix isn't available yet but should be out sometime this year.
4) Yuneec's Typhoon 4 Plus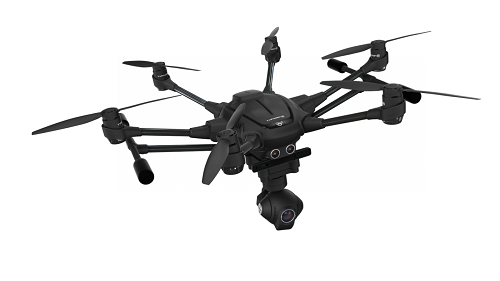 The Typhoon 4 Plus is a professional camera drone that is super expensive. Source: YuneecClocking in as the most expensive drone on the list (at $1,799.99), the Typhoon 4 Plus is for professionals that want to take their photo taking experience to the next level with a one-inch 20 megapixel camera and the ability to record 4K video at 60 frames per second. The drone includes auto obstacle avoidance as well as an Android-based controller that has a 720p display so you can see where it is going.
During CES, Yuneec showed off what you can capture with the camera and it is pretty amazing, with shots taken in crystal clarity with the help of Intel RealSense technology built inside it. The aerial drone also features a quiet operation and auto adjust while in flight. This is also set for a debut sometime this year but the company isn't revealing exactly when.
5) PowerVision's PowerDolphin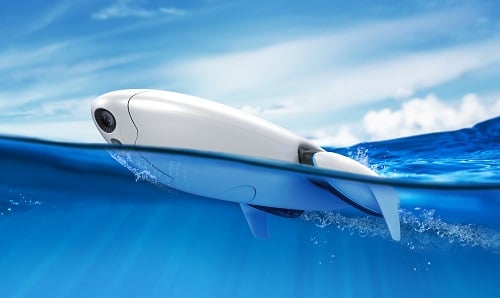 The PowerDolphin drone can reach a depth of 131 feet and contains bait technology to help with fishing. Source: PowerVisionPowerDolphin is another drone submersible that is equipped with a 215 degree dual-join rotating camera that can capture not just underwater photography but shots above the water as well. The lens is capable of wide-angle shooting up to 132 degrees and the upward perspective gives a water-eye view of anything from riding a surfboard to a jet ski. Meanwhile, the downward perspective gives a panoramic view under the ocean to capture all the activity going on.
The drone includes a 4K HD camera, 1,000 meter control range, 1080p real-time video transmission, two hours of battery life, reaches a depth of 131 feet, contains fish finder technology, a fish bait release mechanism, LED lights and features an automatic anti-overturn design. PowerVision claims the drone is for fishing, swimming, underwater photography, water sports and search and rescue. The drone can be operated by a separate controller or a smartphone via a proprietary app.