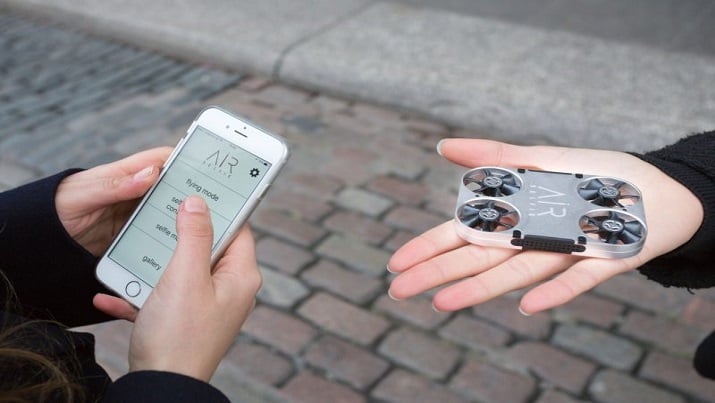 AirSelfie was at CES 2018. IEEE GlobalSpec's Pete Brown got up close and personal. Watch the video above. Source: AirSelfie/AEEE
Amid all the awesome technology at CES 2018 were these handy gadgets for narcissistic tech-lovers.
An invention out of the minds of a team of young Italian brothers made its way to Las Vegas for CES 2018 with an upgrade. While selfies can be associated with the vain and self-obsessed, we must appreciate their value in today's culture.
The AirSelfie2, the second-generation, pocket-sized flying camera that's integrated right into your smartphone cover, can be used beyond the mere selfie, though. It helps capture life's important moments, dramatic scenery or large group shots.
AirSelfie2 is small enough to fit in your pocket and weighs just over two ounces. It features an anodized aluminium casing, so it's durable enough to withstand modern life. It's also equipped with four turbo fans, which allow it to travel more than 60 feet from home base.
AirSelfie can fly directly from the palm of your hand and, after snapping a shot, descends.
It also comes with a "selfie delay timer" function that provides enough time (up to 10 seconds) to hide the smartphone so that it doesn't appear in the photo. It's also possible to take multiple shots — up to 10 consecutive photos.
For the most "selfie-addicted" folks out there, the company released the AirSelfie Power Bank that's the same size as the smartphone case. The power bank guarantees multiple full charges, giving you entire days of operating time.
The AirSelfie case is available for the iPhone 6/6 Plus, 7/7 Plus, Samsung S7 Edge, and thanks to an internal battery, even lets you fully charge the camera in just a few minutes.
The AirSelfie2 includes a flying camera, a power bank for anywhere/anytime recharging, a USB cable for connecting to a computer and a protective bumper. The flying camera will be available at airselfiecamera.com and select retailers for $299.95.
For more information, visit AirSelfie's website.