St. Mary's University is constructing an unmanned aerial systems (UAS) lab that once complete will allow professors to incorporate drones into their teaching curriculum as well as take on more drone-related research.
The drone lab will be 25 ft tall and about 1,700 sq ft, complete with a flight area, observation area and workstations.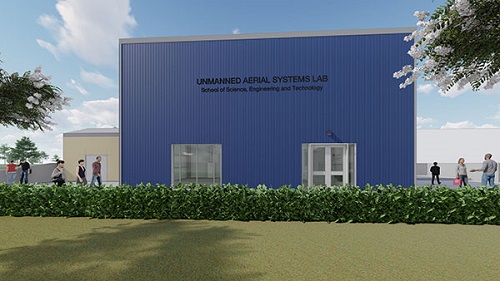 An artist rendering of the drone lab that is under construction at the university. Source: St. Mary's University"This is an opportunity to add programming that will launch St. Mary's graduates into a fast-growing emergent industry," said Winston Erevelles, Ph.D., dean of the School of Science, Engineering and Technology. "The Federal Aviation Administration predicts the U.S. registered commercial drone fleet to climb to between 442,000 and 1.6 million units in the next few years, which will in turn create a few hundred thousand jobs."
While drones began as a military tool for reconnaissance, UAS became a novelty for consumer hobbyists looking for fun times with the family or photography. More recently, drones have become an emerging technology for delivery of goods, parcels and medical supplies and a way to survey and map construction sites, oil rigs and industrial sites.
"The more drones become part of everyday business in all aspects of life, the more need for a workforce that is knowledgeable and capable of maintaining and designing a variety of drones," said Bahman Rezaie, professor of electric engineering at St. Mary's.
Once completed, the drone lab will host summer camps for high school students and support new UAS concentration under the B.S. in Engineering Science program, which will integrate multiple engineering disciplines needed for industry jobs.