Sponsored content
Until recently, most small- to mid-sized manufacturers outsourced laser engraving, and cutting jobs like serializing company assets, creating corporate signage, branding promotional products, and other laser applications. However, advances in equipment and technology have largely eroded the economic barrier to bringing laser engraving and cutting capabilities in-house.
As the demand for laser engraving/cutting services grow and production runs increase, manufacturers are faced with increased costs from contractors. For this reason, they should consider bringing this function on-site. As new products incorporating laser engraving gain traction in the market and the volume of work outsourced increases, there comes a point when the monthly spend on custom laser services exceeds the cost of the monthly lease of a laser system.
Sometimes, the time taken to contact suppliers and reserve space in their production schedule can lead to delays ranging from one day to one week (or more!) Manufacturers can reduce production and delivery lead times by installing the desired equipment in their own factory. Delivery time pressure and the need to satisfy unpredictable customer demand can be minimized by taking control of laser cutting and having laser engraving/cutting resources available "on tap."
Thanks to advances in technology, many features previously available only in large-scale industrial engraving machines can now be found on smaller desktop models, while still maintaining a reasonable price point and providing the same high-quality results. Today's lasers offer the speed, productivity and efficiency to help increase throughput and reduce scrap rates. Constant improvement of design and manufacturing processes has produced laser systems that are more durable and that require less maintenance than older models. As technology continues to advance, laser engraving/cutting machines remain quite user-friendly.
The laser marking process produces a permanent, crisp, highly detailed mark and allows for engraving images at up to 1,200 dots per inch (DPI). Lasers also provide an extremely fast way to customize products. Engraving multiple pieces at once is made easier with a laser system that allows the user to quickly create a jig to hold items in place and engrave as many pieces as will fit laser's work area.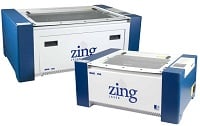 Figure 1: The Zing 16 and 24 make great desktop lasers with a 16 in. x 12 in. or 24 in. x 12 in. work area. Source: Epilog LaserSome manufacturers may be concerned about the availability of in-house expertise required to develop particular laser job configurations and applications engineering. However, Epilog systems are easy to learn and don't require the use of proprietary software. The company also offers The Epilog Job Manager, a powerful tool that uses one piece of software to afford access to any job sent to the laser. Preview jobs or view the settings used on any past runs or re-run projects and keep jobs organized. Rely on this 'computer assistant' with all of the systems in Epilog's laser lineup.
In addition to their original application(s), bringing a laser system in-house allows manufacturers to brand their own promotional products, such as pens or clothing, serial assets such as company laptops and mobile phones and to design their own internal/external signage, personalize customer and/or personal gifts and develop employee recognition products. Engraving custom graphics on MP3 players, iPods, iPads, laptops and cell phones is an incredibly popular application for the laser, and can help deter theft.
Customized designing is not just for those in the maker-space. Lasers are being deployed in a range of industries for diverse applications, thanks to enhanced accessibility and affordability. Contact Epilog Laser to learn how on-site laser engraving can improve product quality, workflow efficiency and your bottom line.