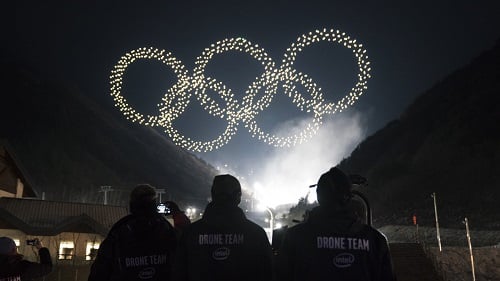 During the Opening Ceremony, drones formed the Olympic logo during a light show. Source: IntelDuring the Opening Ceremony at the 2018 Winter Olympics in PyeongChang, South Korea, Intel put on a light show featuring 1,218 Shooting Star drones — a new Guinness World Record for the most unmanned aerial vehicles to be put in the air simultaneously.
The flight of more than 1,200 drones during the Opening Ceremony light show broke Intel's previous record of 500 drones flown simultaneously in Germany in 2016. During the light show, the drones animated different sports taking place at the games as well as various Olympic-related logos, including the iconic Olympic rings.
"From flying 100 drones simultaneously in 2015, to 500 drones in 2016, and now more than 1,000 drones — the sky is the limit with entertaining through Intel drone light shows," says Sam Prosser, commercial director for EMEA APAC Guinness World Records.
The Shooting Star drones are an unmanned aerial vehicle (UAV) specifically designed for entertainment purposes. The drones are equipped with light emitting diode (LED) lights that can create color combinations and that can be programed for any animation. The drones can be operated by just one pilot.
In addition to participating during the Opening Ceremony, Intel is also bringing other technology to the games, including its True Virtual Reality platform and 5G connection demonstration at the PyeongChang Olympic Park.