In less than two months, over 10,000 athletes will head to Brazil to mark the very first time the Olympic Games will be held in a South American country.
The Olympics won't only tickle the fancy of sports fans and athletic enthusiasts worldwide, but will also bring with it an evolved technological display.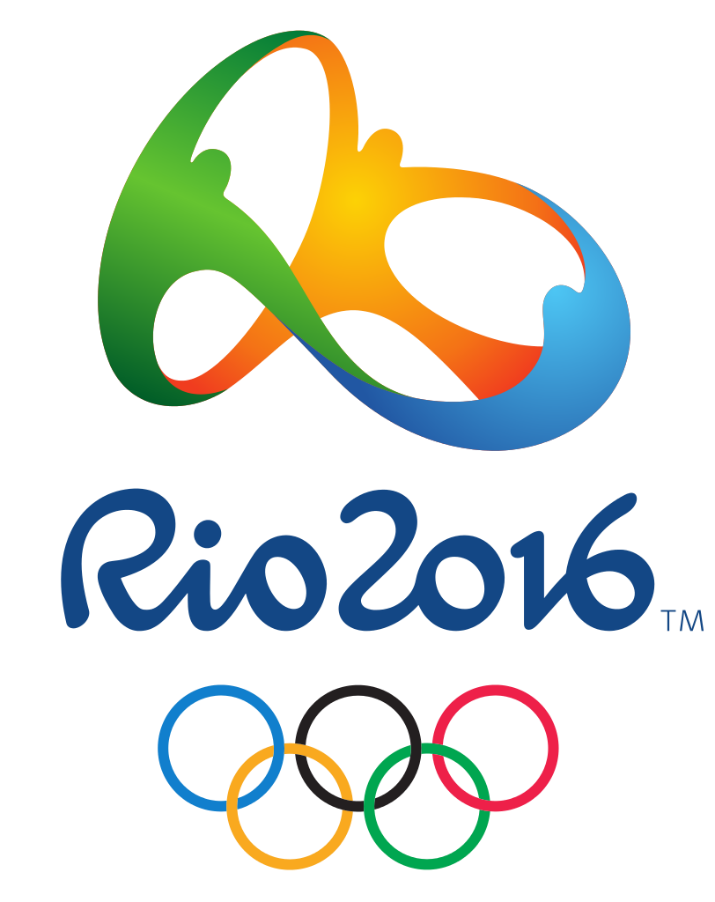 The evolution of technology can be seen over the years in Olympic Games, tracing back to the first time the Games employed automatic timing via Omega stopwatches (Omega is still a partner of the Olympic Games many years later).
With advances in technology come more accuracy for athletes and officials. For example, as noted in the Engineering and Technology History Wiki (ETHW) developed in part by IEEE, in the 2000 Sydney Olympics, virtual imaging made an impact. The Virtual World Record Line enabled viewers to watch athletes approach the world record in real-time during an event. The virtual line was used for swimming and was connected to the electronic timing in the pool. It was shown as a superimposed line on the water's surface, along with graphics.
A virtual line was a big deal just 16 years ago. Now we see technology continue to advance at the Olympic Games—changing the way athletes participate, viewers engage and officials keep score.
Major tech companies take part in the Olympic festivities nowadays, contributing technology products or participating in a behind-the-scenes way.
Nissan

The automaker will provide a mix of products, services and financial backing at this year's Olympic Games. The company will supply 4,500 vehicles that will implement the use of clean energy (either ethanol or electricity) to transport clients, such as athletes, technical officials, media, operational teams and National Olympic Committees.

VISA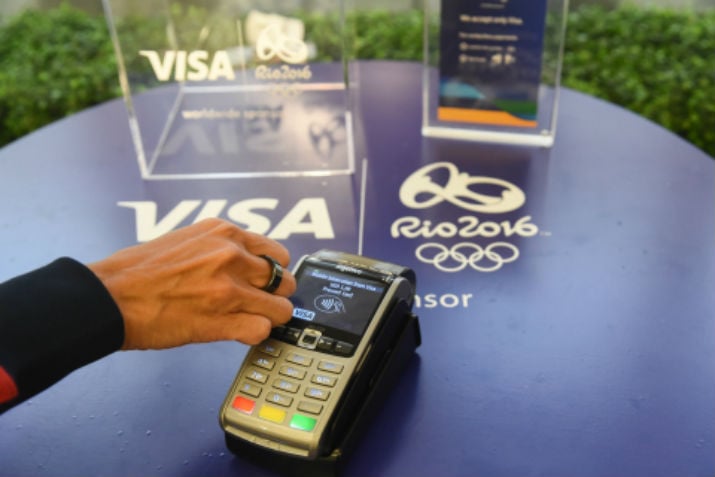 This Visa payment ring is the first-ever NFC-enabled, tokenized payment ring. (Image Credit: Business Wire)While VISA may not be considered a popular name in the technology world, the company, which has been an Olympics partner since 1986, has reached into the tech space this year. One way in which it has done so is by introducing a wearable ring that's connected to a VISA account. The VISA payment ring will be given to all Team VISA athletes in Rio (45 athletes), enabling them to make purchases by simply tapping their ring at any NFC-capable payment terminal.

Cisco

The IT company was selected to provide Internet Protocol (IP) video contribution and distribution solutions, along with networking and security solutions for NBC's production of the Games. The company will deliver a range of products and services to support the constant broadcasting of the events from 26 different venues, and multiple gigabytes of video content delivered online. Some of the company's tasks will include providing wireless and POE-enabled switching infrastructure, network routing, Virtual Private Network (VPN) services, network security and telepresence technology.

Panasonic

Panasonic, also known as the "Official Worldwide Olympic Partner in the Audio and Visual Equipment category" will provide technology in its area of expertise. The company will offer LED large-screen display systems, professional sound systems, broadcasting equipment, AV security camera systems and TVs, and it was also selected to be the "Official Ceremony Partner," which means it will provide more than 100 high-brightness compact 20,000 lumen projectors (PT-DZ21K2), multiple Broadcast Grade 2-M/E Live and other visual equipment.

While we're on the topic of broadcasting, there's word that NBC will broadcast some events in 4K. (There are even rumors of 8K broadcasts in the pipe.) The telecasts will broadcast on a one-day delay and are set to include 4K UltraHD footage from events such as the opening and closing ceremonies, swimming, track and field, basketball and even some Rio sights.

Samsung

Samsung's wireless technologies will provide Olympics-goers with real-time, user location-based information services and interactive communications. The company has been taking part in some high-tech methods to bring attention to the Olympic Games, including the recently launched "Vanuatu Dreams," a 360° virtual reality (VR) film that allows viewers to experience Olympic Games beach volleyball using Samsung Galaxy smartphones and Samsung Gear VR, powered by Oculus. The film is now available online and can be accessed on the Samsung Milk VR application.

The company is so involved with Olympic technology that it even created a swimming cap to help blind Paralympic swimmers detect when to flip-turn at the end of a lane in the pool. The "Blind Cap" is the first swimming cap equipped with a vibrating sensor and Bluetooth technology, and has been under review by Olympics committees.

Microsoft

Microsoft is the company that gets to control a variety of different Olympics-related websites during the sporting events. The Rio Olympics are expected to produce about 12 billion web pages during 17 days, with about 60% of it coming from mobile devices such as smartphones and tablets. Microsoft is estimated to process about four petabytes of computing data during that time. In addition to simply video streaming on these websites, they also need to deal with real-time stats for games being played and games that have just finished. The websites' maintenance will also be taken on by Microsoft developers.

GE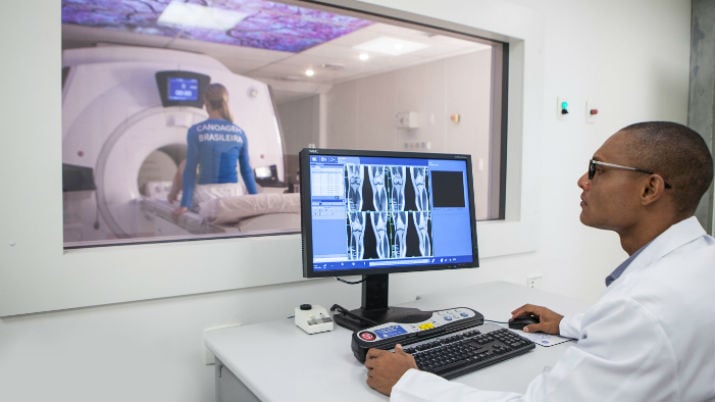 Like US athletes from the past two Olympic Games, now all competing athletes attending the Rio 2016 Summer Olympic Games will have their health interactions managed by an electronic medical record (EMR). (Image Credit: GE Healthcare)GE has its hand in many aspects of the Olympic Games. For example, the company has provided solutions that helped build the infrastructure required for the city to even be able to host an event of this nature. In addition, the company is lending a helping hand in the areas of energy generation and distribution systems, image diagnostics, monitoring technology and electronic medical records, lighting systems, aircraft engines, water treatment installations and services, equipment and transport management, and more.
Take a look at these seven major companies to see what their tech role will be in this year's Olympic Games.

One example of the technology the company will provide is electronic medical records. The International Olympic Committee (IOC) will no longer have to ship pallets of paper around the globe to keep track of medical data from athletes competing in an Olympic Game. For the first time, all athletes and spectators at the Games will be able to have their health interactions managed by an electronic medical record (EMR).

Though these are some of the major names bringing technology to the Olympics, there have been a variety of other technology strides that will find their way into this year's Olympic Games. For example, the USA cycling team will sport a set of glasses with a heads-up display so that athletes can track stats and conditions in real-time.

The 2016 Rio Olympic Games begin on Friday, August 5.