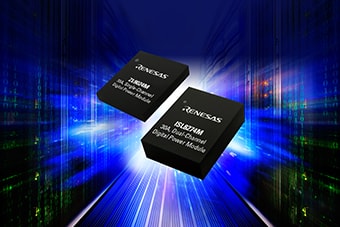 The ISL8274M power module. Source: RenesasRenesas Electronics Corp. has introduced two new fully encapsulated digital DC/DC PMBus power modules for delivery of point-of-load (POL) conversions for field programmable gate arrays (FPGAs), digital signal processors (DSPs), ASICs and memory.
The ISL8274M operates from a 5 V or 12 V power rail, provides two 30 A outputs and up to 95.5 percent peak efficiency in a compact form factor. The ZL9024M operates from a 3.3 V rail and outputs 33 A of power. The power modules work with other processors for servers, telecom, datacom, optical networking and storage equipment.
Both devices include a controller, MOSFETs, inductor and passives encapsulated inside a module that increases available board space and reduces bill of materials (BOM). Both devices use Renesas' ChargeMode control architecture that the company says provides efficiencies with better than 90 percent on most conversions. The power modules also provide single clock cycle fast transient response to output current load steps common in FPGAs and DSPs that process power bursts.
Both devices are available now with the ISL8274M priced at $37 and the ZL9024M priced at $29.