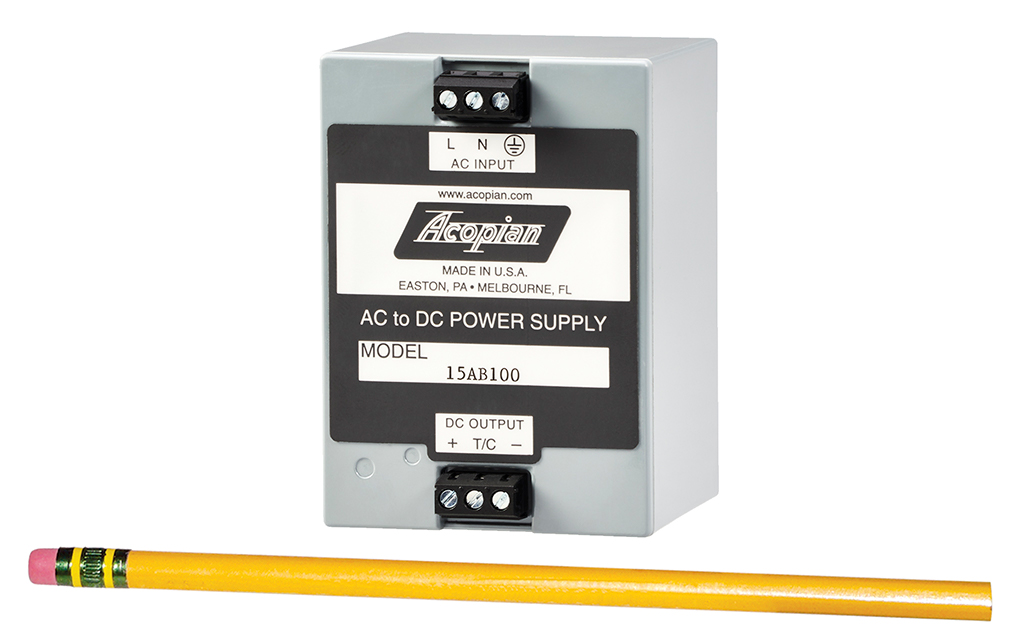 Acopian has launched a new line of touch-safe linear mini power supplies. Source: AcopianPower supply maker Acopian recently announced the availability of a new line of touch-safe linear regulated mini encapsulated power supplies. The devices offer output voltages ranging from 3.3 V DC to 48 V DC, and up to 15 W of output power with an operating ambient temperature to 71° C.
According to a press release from Acopian, the small and lightweight modules offer extremely low ripple (1 mV RMS); precise load and line regulation; and temperature stability. They can also be mounted in a 3.5 in x 2.5 in area. They may be used in series with no derating or heat sinking required, and their terminal block input/output connections eliminate the need for sockets or soldering.
Standard features of the new devices include short circuit protection, encapsulated construction and what Acopian calls a conservative design to ensure long-term reliability. Available options include 24 V AC, 100 V AC and 230 V AC inputs; DC on LED indicator; output voltage adjustment of +/-2%; and DIN-rail and wall-mount adapters.
[Read more about how DIN-rail supplies provide flexibility in space-constrained applications.]
The units are designed for use in all applications requiring clean, reliable power. All models are UL60950, UL508 and CE recognized/listed components. Like all Acopian products, they are made in the U.S.
To learn more, visit Acopian online or call 1-800-523-9478.