Despite the thousands of unique power-supply devices already on the market, there's both a need and demand for more, as was shown by the relentless wave of new supplies announced right around the same time as the recemt APEC event. This can be seen by the two recent additions to the DC/DC power-converter list, which are only two of dozens of recent releases.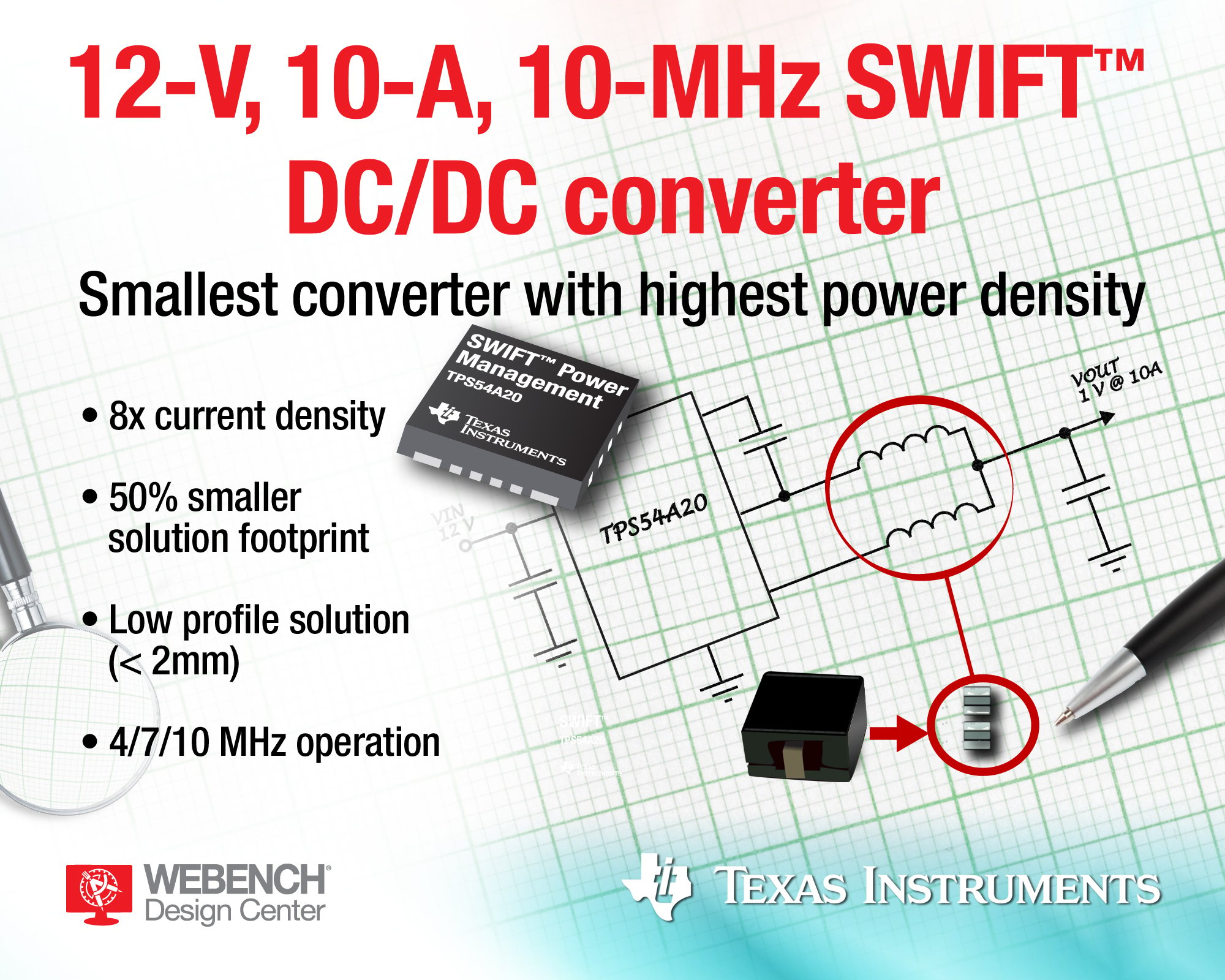 The TPS54A20 from Texas Instruments is a 12 V-to-single digit DC/DC converter with current density of 50 A/cm3, resulting a in a tiny and thin device. Image source: Texas Instruments
Designers using Texas Instruments TPS54A20 need to add only a few external passive components to complete the full DC/DC function. Image source: Texas Instruments
Texas Instruments claims that their TPS54A20 SWIFT synchronous DC/DC converter has industry's highest current density for a nominal 12-V input device, at 50 A/cm3. This 10-A converter operates at up to 5 A per phase without special magnetic components or need for compound semiconductors such as GaN devices. It combines a unique two-phase, series-capacitor DC/DC buck topology that merges a switched-capacitor circuit with a multiphase buck converter. It targets space- and height-constrained point-of-load (POL) telecom and networking power-supply designs. Input range for this buck (step-down) converter is 8 to 14 V while output can be set between 0.5 V and 2 V.
Among the key attributes of the TPS54A20 are:
•small overall size, due to its quad flat no-lead packaging and use of inexpensive, tiny 2-to-5 MHz inductors, for a 131-mm2 total footprint size that needs 50 percent less area than existing solutions
•low profile, and with its height of under 2 mm, it can be placed on the back side of a printed-circuit board (PCB)
•Multi-MHz operation with a 14-ns minimum on-time compatible 4-to-10 MHz switching, yet without compromising efficiency or electromagnetic interference (EMI) performance
The TPS54A20 converter is available in a 20-pin, 3.5 mm × 4 mm × 1mm thermally enhanced QFN package, and is priced at US$3.25 (1,000-unit quantities); an evaluation module is available for performance assessment.
The Intersil ISL8205M and ISL8202M DC/DC converters provide a low-voltage output at 5 A and 3 A, respectively, for line and battery-powered equipment where space is at a premium and high efficiency is critical. Image source: Intersil Corp.
Intersil has introduced a pair of pin-compatible 5-A and 3-A power modules for lower out
The internal block diagram of the Texas Instruments TPS54A20 DC/DC converter shows the complexity and sophistication which is invisible to the user but critical for performance. Image source: Texas Instruments put currents, intended for line and battery-powered industrial and high-end consumer applications. These high power density modules feature to 95% efficiency in a compact 4.5 mm × 7.5 mm × 1.85 mm footprint. The modules are complete power supplies that include a controller, MOSFETs, inductor and passive components inside an encapsulated package, simplifying system design. Switching frequency is user adjustable from 680 kHz to 3.5 MHz.
With just sub-2 mm height, the ISL8205M and ISL8202M can also mounted on the back of a PCB, as with the TI units. Both converters accept input voltages from 2.6 V to 5.5 V and provide an adjustable output voltage down to 0.6V. Pin compatibility between the two modules lets engineers migrate, if needed, from 3 A output current to the higher 5-A output rating. The units also offer selectable light-load efficiency, 100% duty cycle modes, and 50 µA quiescent-current enable.
Due to their efficiency and copper lead-frame structure, the modules operate at full load over a wide temperature range with no airflow or heat sinks. Fault protection covers input under-voltage lockout, over-temperature, over-current/short-circuit with hiccup mode, over-voltage and negative over-current. Further, programmable soft-start reduces inrush current, and automatic output discharge ensures a soft stop for eliminating current-based transients.
Both m
The Intersil ISL8205M (5 A) and ISL8202M (3A) DC/DC converter modules are pin compatible, thus easing any product-upgrade issues and also simplifying the BOM across an array of products. Image source: Intersil Corpodules are packaged in 22-lead QFN package. The 5-A ISL8205M is priced at US$3.79, while the 3-A ISL8202M is US$2.79 (1,000-unit quantities). Intersil also offers $69 evaluation boards for each module.
Related at Electronics360:
https://electronics360.globalspec.com/article/6584/cui-at-apec-emphasis-on-software-defined-powe
A "basic" switching DC/DC converter module is anything but basic in its internal design, as shown by the block diagram of the Intersil ISL8205M (5 A) and similar ISL8202M (3A) DC/DC converter modules. Image source: Intersil Corp. r