Recent booms in cryptocurrencies like bitcoin and Ethereum are causing a spike in high-end graphics processing unit (GPU) prices. High-end gamers and other GPU users are also reporting a major shortage of the devices.
According to Amazon.com prices, the Nvidia GTX 1070, a high-end GPU popular with competitive video game players, is retailing near $800 as of February 1. The device carries a suggested retail price of $380. Other popular GPUs are also selling at double their suggested retail prices.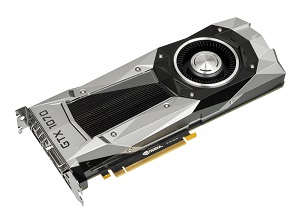 The Nvidia GTX 1070 GPU.Cryptocurrency prices are notoriously volatile, but the most popular currencies have seen a significant boom since late November. Bitcoin's value peaked at $19,343 on December 16, up from only $5,857 on November 12. Next-most-popular currency Ethereum peaked at over $1,200 last month after remaining below $500 until mid-December.
Cryptocurrencies like bitcoin rely on "miners" to continuously carry out changes to the blockchain public ledger. Cryptocurrency mining is incentivized by rewards like transaction fees and newly released currency. In order to reap these rewards, miners invest in sufficiently powerful hardware to process blockchain transactions.
Bitcoin was first mined by central processing units (CPU) around its 2009 inception, but GPUs are now the dominant hardware for it as well as Ethereum, Zcash and Vertcoin. The recent spike in cryptocurrency prices caused a huge influx of investors and miners alike, leading to the GPU shortage.
The GPU shortage is hitting serious video gamers and those looking to build homebrew computers the hardest. A recent story on video game news site Polygon advised gamers to simply wait out the cryptocurrency bubble.