A startup on the blockchain-based software platform Ethereum vanished on Sunday after raising $374,000 from investors.
Confido sold digital tokens to investors in an initial coin offering (ICO) on Ethereum from November 6 to 8. After reaching a peak market cap of $10.7 million on November 14, the company's website and Twitter accounts suddenly disappeared on Sunday. An announcement by Confido founder and former eBay employee Joost van Doorn on the company's subreddit stated that the company had run into a "tight spot" due to legal trouble with a contract. The announcement has since been removed from Reddit. Confido's currency price plummeted to a fraction of a dollar by late Monday.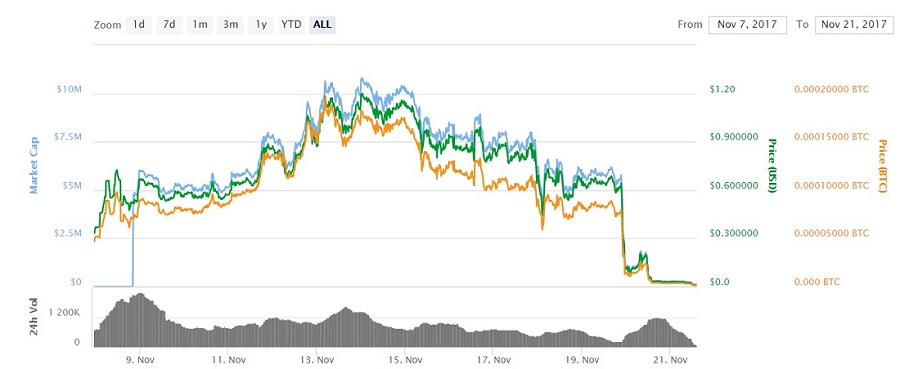 Confido's price history. The cryptocurrency plummeted on Monday after all traces of the company unceremoniously vanished on Sunday. Source: CoinMarketCap
ICOs are controversial due to their lack of oversight and regulation. They involve selling a percentage of a newly-issued cryptocurrency to investors in exchange for actual cash or bitcoin currency. In August, the U.S. Securities and Exchange Commission (SEC) warned that ICOs are likely to involve "pump and dump" scams, in which companies build interest with an ICO and then immediately cash out their capital and disappear with investors' money.
Ethereum is one of the more popular cryptocurrency platforms. Its market cap of nearly $30 billion in mid-October was second only to bitcoin's $90 billion. As cryptocurrencies gain traction in the marketplace, critics warn that they are ripe for fraud and confidence tricks due to the relative lack of regulation from government agencies. The SEC advises investors to diligently research and understand a company's finances, organization and business prospects before investing in an ICO. They note that companies purporting to be "SEC-compliant" while providing no detail about this compliance are particularly dangerous.