Solar power is a boon for many large industries but it is also a major factor for new, smaller devices. Below are four solar technology campaigns that are currently active on Kickstarter and you can even donate to them right now.
1. Solamigo Solar Power and Anti-Theft Backpack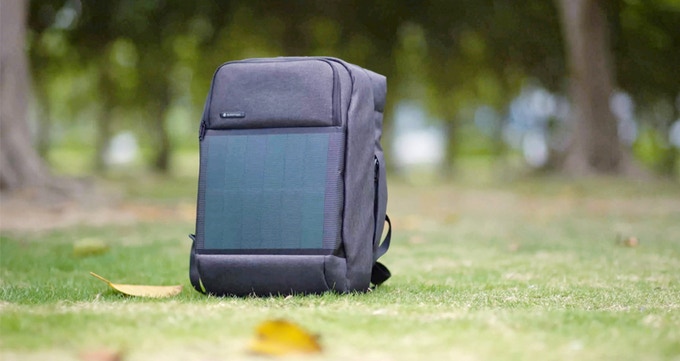 The Solamigo Solar Power and Anti-Theft Backpack. Source: Kickstarter/Solamigo
Solamigo launched a thin-film solar and anti-theft backpack. The backpack can charge cell phones and laptops using only solar power. The backpack also has anti-theft capabilities with a smart organization system. A security lock locks the zipper in so robbers can't get into the backpack. It also has a rubber leash so you can lock the backpack to a bench or other area when you put it down. The solar panel measures 14 inches and is attached to the front of the backpack so it saves space while charging in the sun. The solar battery is 2000 mAh and can fully charge in three and a half hours.
The backpack's pockets were specifically designed for organization. The backpack can hold a laptop, phone, notebook, charger, pens and more. It even has a water bottle and umbrella pocket. There is a key leash attached to the side for easy key access while keeping the key secure. The straps of the backpack have access pockets for cards and sunglasses. There are hidden security pockets in the back to keep important items like your passport or wallet was hidden but still within reach. As of today, the Solamigo Solar Power and Anti-Theft Backpack has 32 days left in its Kickstarter campaign and has raised $7,450 of its $30,000 goal.
2. GoSun Fusion: Solar + Electric Oven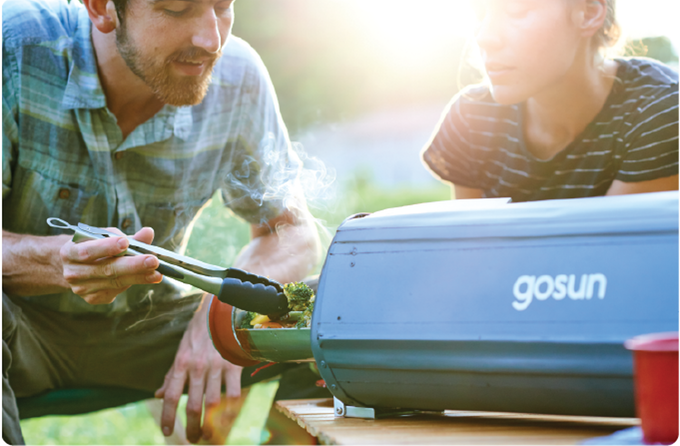 The GoSun Fusion: Solar + Electric Oven. Source: GoSun/Kickstarter
The GoSun Fusion is an eco-friendly, portable, solar-powered grill. The GoSun Fusion can hold up to five meals at once. It weighs 10 pounds, is durable and collapsible for easy transport for hiking, camping or anything else on the go. The grill heats up to 450° F but remains cool to the touch and cook meals with full sun in 30 minutes. The GoSun Fusion is a clean alternative to grill cooking while camping. The grill gathers energy from the sun and stores excess energy in a power bank so it can still operate in cloudy conditions or at night. The GoSun Fusion uses the same amount of energy as a typical light bulb. The borosilicate glass oven vacuum tube, polycarbonate mirrored reflectors and stainless-steel tray, enables cooking in any weather and any place while being eco-friendly and safe. The cooking tray holds 3.2 liters of food. It also has a GoSun dial, electric heater and a 12-volt power cord. The GoSun Fusion uses less power to cook a meal than a traditional stove, using only 140 watt-hours of power per meal cooked. The Kickstarter campaign has 22 days left of its Kickstarter after today and has exceeded its goal by raising $260,862 of the $30,000 goal.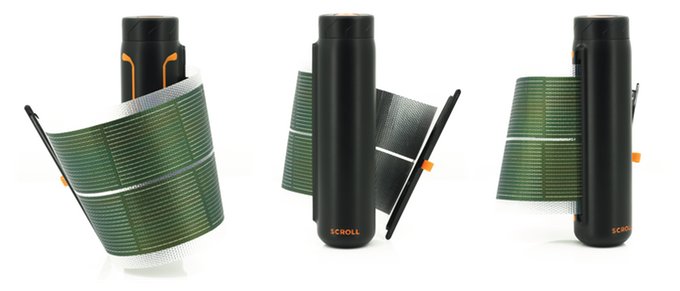 The SOUL Solar Scroll Charger. Source: SOUL/Kickstarter
The SOUL Solar Scroll Charger is a scroll-like, portable solar-powered electronics charger. This compact charger is perfect for on-the-go, off-the-grid charging, perfect for hiking, camping or biking. The scroll weighs 10.5 ounces and has a 5,200 milliamp battery with 800 milliamp hours and a 5-watt flexible solar panel with a 5-volt 2.0 output. The charger can power up within four to six hours in the sun and two to three hours when plugged into a wall outlet.
At full charge, the scroll charger can power a cell phone one to two times, wireless headphones ten times, an e-reader three to five times, a Go-Pro four to five times and a tablet once. The scroll design of the charger allows for compact and portable charging. The solar panel can be unrolled and attached to a backpack so it is powering up with the sun while you are engaging in outdoor activities. It can even charge in overcast conditions. The scroll charger has smart heat dissipation capabilities to avoid overheating and can even work when sections are ripped or damaged. The Kickstarter campaign currently has 16 days left in the campaign and has surpassed its goal, raising $52,417 of the $30,000 goal.
4. Goldfink Solar Planner: Eco-friendly Tablet Case and Charger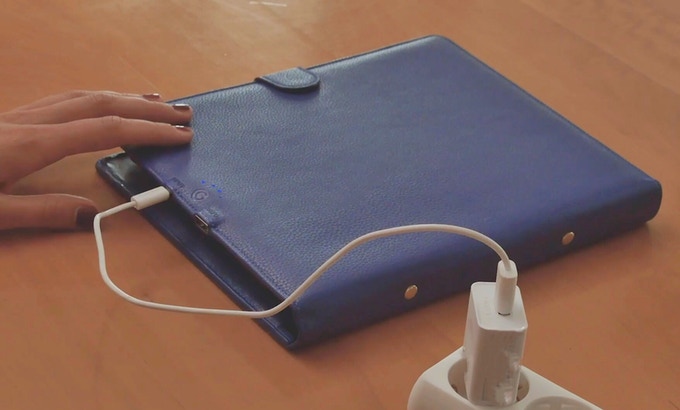 The Goldfink Solar Planner. Source: Goldfink/Kickstarter
The Goldfink Solar Planner is an eco-friendly case that can hold and charge your tablet, all while keeping your life planned and organized. The planner can store papers, tickets, business cards, pens, a portable keyboard and pretty much anything you need to keep organized. The rotating hard shell protects your iPad or tablet from any potential damage during transportation.
The power bank is filled with solar power and can be charged by an electric outlet for back up when the sun is unavailable. The case's leather cover keeps it looking and feeling sleek. The solar panel can be taken out of the case and placed in direct sunlight for charging. Once it is done charging, it can be placed in the back of the case. The case has four LED lights that indicate how much power the battery has left. The tablet frame is removable, so the user can use their tablet wherever they want at any viewing angle. The pockets in the case allow paper, business cards and more to be stored for perfect on-the-go storage. It even includes a three-ring binder. The case and charger weigh 1.3 pounds, so it is lightweight for easy transportation. There are 36 days left of the Kickstarter campaign and has raised $2,099 of the $5,854 goal.
Which of these devices excites you the most? I know that I am very interested in the scroll solar charger. Are you planning on donating to any of these campaigns? Let me know in the comments.