Kopin Corporation and Pico Interactive introduced a wearable home theater headset, code-named "Eagle," at CES 2018. Eagle is a lightweight mobile headset that fuses a home theater entertainment experience with mobile viewing capabilities, equivalent to viewing on an 80-inch screen.
To make Eagle possible, Kopin created the concept design and supplied optical modules to Pico, including its Lightning™ 720p OLED microdisplay, which delivers 1280 by 720 resolution in a 0.49-inch diagonal screen size. Kopin is also taking an equity stake in a new subsidiary of Pico, Qingdao Yueshi Technology Co. Ltd.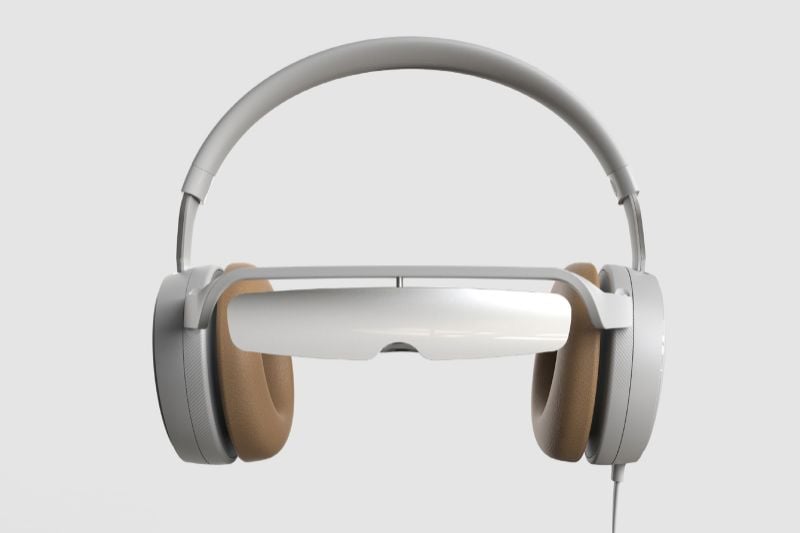 Kopin/Pico Headset. Source: Kopin Corporation
The Eagle, a recipient of a CES 2018 Innovation Award, is a lightweight mobile headset featuring over-ear noise canceling headphones and a removable high-definition OLED display band. The display system provides the equivalent of an 80-inch screen viewed from ten feet away while still maintaining awareness of your surroundings, an essential condition in a mobile environment. When the display isn't needed, users can detach it from the headphones and turn Eagle into a high-quality set of noise-canceling headphones. The video is provided via cable from a smartphone.
Eagle will be manufactured, marketed and distributed by Qingdao Yueshi Technology Co. Ltd., a newly created subsidiary of Beijing-based Pico Interactive, an innovative VR solutions developer dedicated to providing premium gaming and content-viewing experiences. The Eagle will initially be marketed in China.
"Today we unveil the fruits of our partnership with Pico Interactive - a truly game-changing experience that finally lets people bring that home theater experience anywhere they go," said Dr. John C.C. Fan, Kopin's president and CEO. "Whether you're a sports enthusiast who can't miss the game, in the middle of binge-watching a season of your latest favorite show, or a commuter looking to pass time watching YouTube videos, consumers can enjoy their video content on the go without the compromises of watching on a tiny phone screen."
"By combining Kopin's technologies and expertise with our high-end audio, manufacturing and marketing capabilities, we can deliver a fantastic new experience for consumers," said Henry Zhou, CEO of Pico Interactive. "Kopin's innovative designs and powerful components have allowed us to create a new product that will truly disrupt mobile entertainment. Eagle meets a real market need, and Pico will continue to explore additional innovative new products with Kopin's industry-leading microdisplays and concept designs."
About Pico Interactive
Founded in 2015, Pico has over 300 team members around the world, all focused on creating amazing VR, AR and imaging platforms for businesses and consumers alike. Operating under the guiding principle of "user first design," Pico has led the VR industry in developing and implementing AIO (all-in-one) VR Headsets. With several first-to-market products, Pico has consistently delivered a better VR hardware experience for end users. With operations in China, the United States, Europe and Japan, Pico is able to provide customers with local support and guidance for their VR applications and programs. For more: https://www.pico-interactive.com.
About Kopin
Kopin Corporation is a leading developer and provider of innovative wearable technologies and critical components for integration into wearable computing systems for military, industrial and consumer products. Kopin's technology portfolio includes ultra-small displays, optics, speech enhancement technology, voice-interface and hands-free control software, low-power ASICs and ergonomically designed smart headset reference systems. Kopin's proprietary components and technology are protected by more than 300 global patents and patents pending. For more information, please visit Kopin's website at www.kopin.com.