Several drones made an appearance at CES 2020, held last week in Las Vegas, some of which have been seen before and others that offer new iterations of the aerial technology.
Drones have come a long way following CES 2019. Since then, drone delivery has exploded with numerous companies — both startups and larger corporations — rolling out projects to further expand the technology. Governments have also gotten involved. In the case of the U.S., the Federal Aviation Administration (FAA) is paving the way for drone delivery with sponsored projects that have begun in North Carolina for drug delivery.
However, there were a few drones that stood out among the pack at CES 2020 including:
1) Air Pix
Air Selfie has been rolling out several mini drones for personal use that allow users to launch a drone from their hand and have it follow and hover the user through a connection in a smartphone.
The latest is Air Pix, a pocket-sized aerial camera that can shoot 12 megapixel photos and record 1080 p 30 fps video. With one touch, the Air Pix can autonomously fly. Using gesture control or controls via a smartphone, the drone can also course correct and follow users as they walk. The Air Pix weighs less than a golf ball and the company said it does not require any type of registration.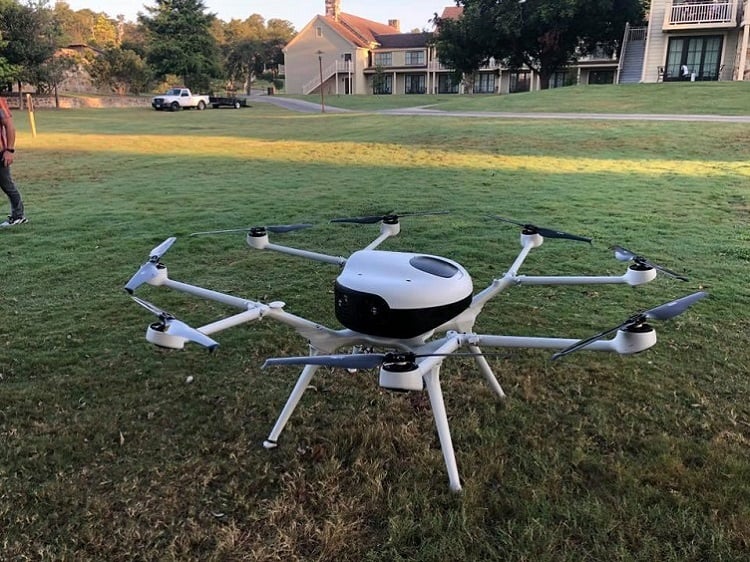 The DS30 has a fuel cell system allowing it to be in the air for 120 minutes. Source: Doosan
2) DS30 with fuel cell system
The Doosan DS30 is a remote drone that can be piloted regardless of distance. The drone contains a powerpack that is a miniaturized, lightweight fuel cell system that is 2,600 W and maximizes mobility using proton-exchange membrane fuel cells (PEMFC) technology. The fuel cell is an eco-friendly system that requires only oxygen and hydrogen in the air to generate electricity while producing only moisture as a by-product.
The fuel cell allows the drone to be in the air for about 120 minutes without a payload and it is designed for use in the delivery of goods such as packages, food or healthcare items. The DS30 flies beyond the visual line of sight (BVLOS) and users can monitor the powerpack from any distance, transmitting and receiving powerpack and flight controller information via a built-in dedicated communication module.
The fuel cell system sets this drone apart from others because it is a novel approach to keeping drones in the air longer, which means it can deliver more goods to more people without as much downtime. This could be the future of drone delivery if it catches on.
3) Navatics MITO
The MITO underwater remotely operated vehicle (ROV) by Navatics has entered mass production for use by videographers, divers, hobbyists or fishermen. It can also be used recreationally. The underwater ROV features a 4K video at 30 fps and can be used to explore waters up to 130 ft. The drone is piloted by remote control via smartphone and can stream video from 1,640 ft away at 1080 p resolution.
The ROV is attached to a wireless communication buoy to transmit controls precisely and accurately to the drone deep underwater, the company said. The ROV can hover and keep its orientation for up to four hours with four thrusters that allow it to tilt up and down at 45° angles. The drone also includes two 1,000 lumen LED lights for better vision underwater and better colors for videos and images.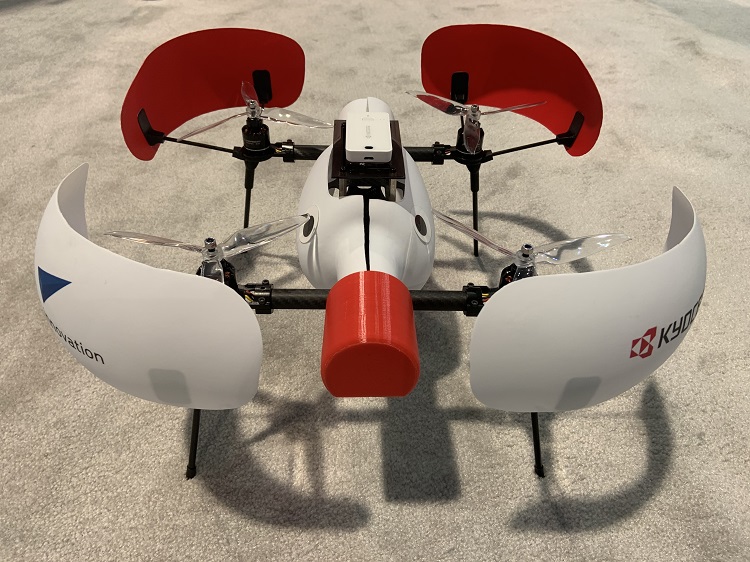 These drones would form a roaming cell tower in cases of emergency. Source: Blue Innovation
4) Blue Earth's mobile communication platform
One of the more interesting announcements at CES came from Blue Innovation and Kyocera. The companies are working to develop drones that would aid in disaster relief by establishing a remote, mobile communication network for smartphones. The drones would use Blue Earth's front-end system to remote control several drones and Kyocera's wireless communication technology would be used to move the drone communication relay in the air.
Allowing for a roaming, drone-enabled communication platform that could be used in case of a natural disaster or in other areas where cell phone coverage is disrupted. The companies plan to field test the system under LTE and 5G networks in March and later to commercialize the system thereafter.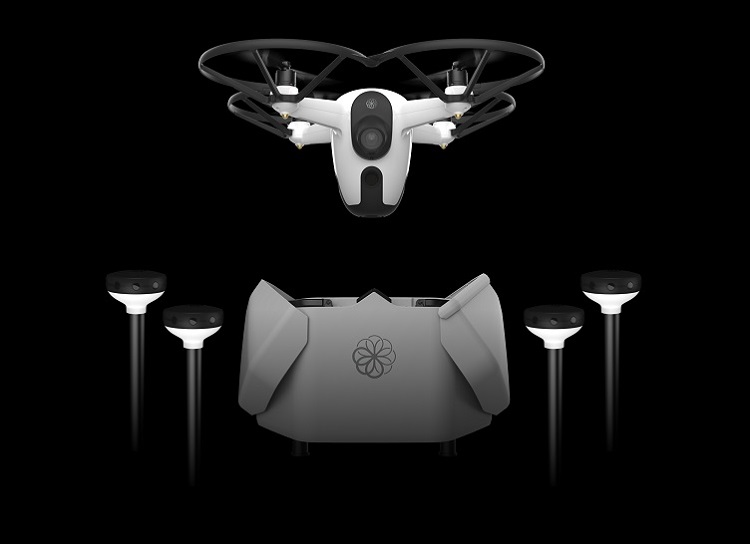 The Home Awareness System may be the new wave of home security. Source: Sunflower Labs
5) Home Awareness System
There were numerous security products unveiled at CES this year, but one security system stood out for combining motion and vibration sensors and cameras with autonomous drone technology.
The Sunflower Labs Home Awareness System's motion and vibration sensors, called Sunflowers, are disguised as garden lights that constantly monitor a homeowner's property. These sensors can differentiate between animals, cars and people and that information is displayed on a map in real-time. Meanwhile, the Bee is the autonomous security drone that navigates above a property in order to observe activity. The drone includes automatic deployment, autonomous flight, ultrasonic collision-avoidance sensors, GPS and live streaming video.