Selfie drones are a cool idea: not only do they fly by themselves, they can also follow a user around to take photos or videos. Typically, these drones are controlled through a smartphone app that syncs with the drone so the drone has a reliable target.
Drone maker Skydio is making it easier to control a selfie drone via a new app for the Apple Watch. It permits full control of the R1 self-flying selfie drone from the user's wrist.
The company said consumers do not have to pilot the drone from a smartphone while taking images; instead it will be a simple control on the Apple Watch.
Features of the app include selecting a subject to follow by picking from thumbnails, using the Digital Crown to rotate the R1, changing between cinematic skills and a stop and return function. The drone is also now available in select Apple stores for $1,999.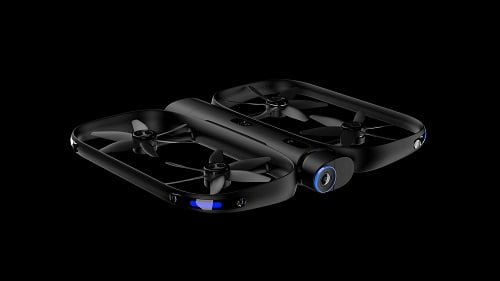 The R1 selfie drone can capture images and photos while floating above the subject it follows. Source: Skydio"Full autonomy is the key to making drones accessible and practical for everyday use," said Adam Bry, CEO, and co-founder of Skydio. "With our Apple Watch app, users have the full power of Cinematic Skills, like Dronie, Rocket, and Orbit, enabling incredible capture possibilities right on their wrist."
The R1 drone is powered by Skydio's Autonomy Engine that allows it to see and understand the world around it, as well as fly safely at high speeds while avoiding obstacles, even in challenging environments. The drone uses Nvidia's Jetson artificial intelligence chip to map the area around it, make decisions, plan real-time movements and navigate complex environments.
Skydio introduced the R1 this past February after CES 2018, which introduced a number of drones. At the time, the only way to control it in selfie mode was from a smartphone app.
The R1 joins a host of other selfie drones on the market, including the AirSelfie drone, which was introduced at CES, as well as the Hover Camera Passport from Zero Zero Robotics, which burst onto the scene at CES 2017. One of the world's largest drone makers, DJI, also introduced a selfie drone last year called the Spark, which lifts off from the palm of a hand and can be controlled via smartphone.