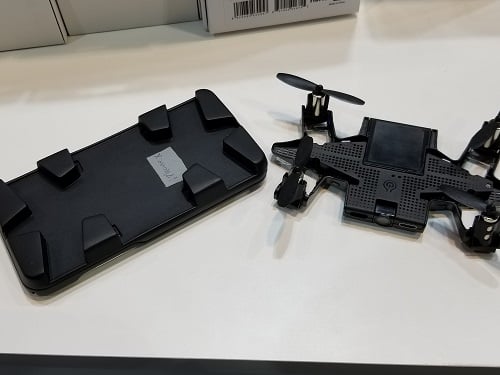 The Selfly drone and smartphone case. Source: AEEAt last year's CES, Chinese drone maker AEE introduced a number of new drones, from palm-sized consumer devices to full-scale professional drones. One of the more interesting ones they discussed was the Selfly drone, which merges a drone with a smartphone case.
While many times concepts at CES are never fully realized, quickly become outdated or simply aren't viable to mass produce, AEE will make the Selfly available for purchase beginning at CES 2019, taking place this week in Las Vegas.
The Selfly is an autonomous flying camera that attaches to the back of a smartphone that provides its control. The drone is snapped off its case or out of its dock to fly nearly autonomously, giving the user options beyond just a selfie stick.
The drone hovers in the air and waits for commands from users via a mobile app to capture images and videos. The drone features face tracking where it can sense and follow users at different angles as well as gesture control, optical flow positioning and safe fly features.
The drone includes 720P video capability and two batteries each with a flight time of four minutes on a charge of 30 minutes.