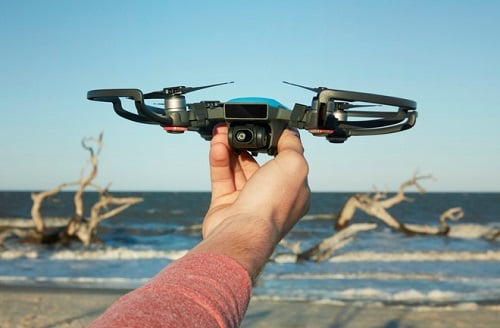 Spark has different flight modes that allow users to take 10 second professional videos from an aerial perspective. Source: DJI Just a few days after DJI issued a warning to drone owners they would have to register their machines or have its capabilities drastically hindered, one of the world' largest unmanned aerial vehicle (UAV) companies launched its first mini-drone.
Spark is a small camera drone that lifts off from the palm of your hand to capture images and video and can be controlled by hand gestures, eliminating the barrier of a bulky, sometimes hard to operate remote controller.
The gesture control allows Spark to be controlled via hand movements — sending the drone up into the air or to follow along with you or even to come back to your hand. The drone can also be commanded via a remote controller or a smartphone.
"Controlling a camera drone with hand movements alone is a major step towards making aerial technology an intuitive part of everyone's daily life, from work and adventure to moments with friends and family," said Paul Pan, senior product manager at DJI.
Spark weighs 10.6 ounces, which is less than a can of soda, and can be launched in seconds, DJI says. Priced at $499, the drone features a new flight mode for creating professional videos. Called QuickShot Intelligent Flight Mode, Spark will fly along a preset flight path while recording a short 10 second video and tracking a subject along the way.
Four modes are available in QuickShot: Rocket, that sends the drone straight up into the air with the camera pointed down; Dronie, which sends Spark flying up and away from a subject; Circle that rotates around the subject; and Helix that sends the drone spiraling away from the subject as it flies upward.
Previously introduced flight modes such as TapFly and ActiveTrack are also available for Spark. TapFly's Coordinate mode allows the drone to fly to a location user's put in a smartphone while the Direction Mode lets a user keep flying the robot in a direction they tap on the screen. Meanwhile, ActiveTrack flight mode recognizes a subject and follows them in the center of the frame.
Other features of the drone include a 1/2.3-inch CMOS image sensor capable of shooting 12 megapixel photos and 1080p video, a vision system that can track subjects up to 98 feet and sense obstacles up to 16 feet away and a 2-axis mechanical gimbal to reduce shake and rolling shutter.