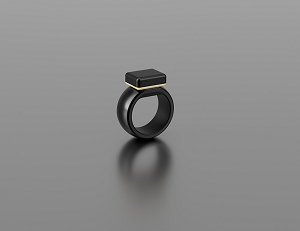 Source: Titanium Falcon
Titanium Falcon, Inc. today announced that pre-orders are open for Talon, a smart motion controller that packs powerful multi-functionality into a small, easy-to-wear ring for daily engagement with your devices. Talon relieves users of controller confusion to make managing your technology fun, simple and convenient.
Titanium Falcon will demonstrate Talon at CES 2018 at Eureka Park in Sands Hall, Booth G #51476.
The all-in-one lifestyle device is ideal for gameplay, VR, AR and the smart home, along with internet of things (IoT) and mobile applications. For VR/AR, Talon is solving a specific pain point of not being able to see the controller during the engagement and the break in the experience that it currently creates. Talon has proprietary noise reduction technology, sensor fusion algorithms and other innovations that ensure it is highly accurate with one of the fastest response times to make the experience seamless. When pre-orders ship in Spring 2018, new apps for Talon will be available for mobile mini-games and camera use. The Talon also has HID functionality, making it compatible with most mobile games.
Two buttons (click using the thumb) allow for six inputs, alongside an endless amount of motion-control inputs. A detachable battery allows for endless use by switching with a charged unit when the one in use is depleted.
Talon is easy for a user to calibrate and control via Bluetooth connection and syncs with different devices and applications. Talon is the first open-source smart ring, with developer kits currently in the hands of potential partners in the gaming, VR, mobile and IoT space. Developer kits are still available for sale.
Specs:
Nine-axis motion control
16K screen support
Four hours of continuous use
20 min. charging time
3 mm band thickness
15 m Bluetooth connection
Multi-ring support
Free SDK support for multiple platforms, including Android, iOS, Unity, Mac, Windows, Gear VR, Oculus, Vive