TechInsights Teardown: Innovusion Falcon Kinetic
10 February 2023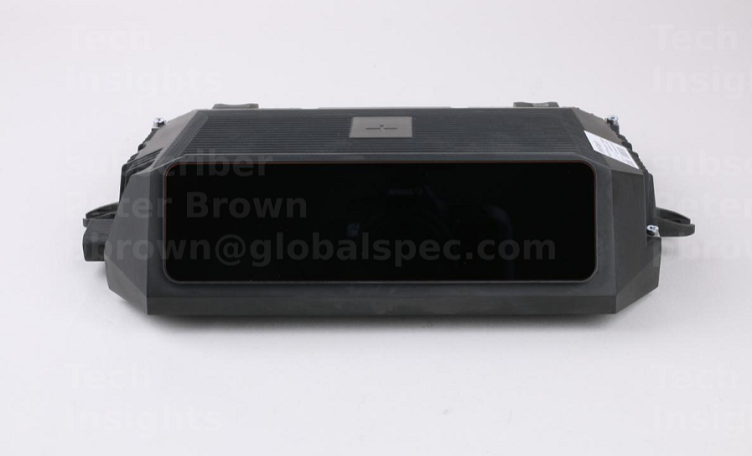 Lidar has become big business in both automotive and a range of other applications for smart cities, indoor mapping and surveying.
While many believe that lidar will be mostly used in autonomous driving, lidar has found a large spot already in current vehicles for uses in advanced driver assistance systems (ADAS) and other safety and navigation systems.
Lidar, which stands for light detection and ranging, uses light in the form of a pulsed laser to measure ranges. The near-infrared lasers map the land and sends this real-time map back to the automotive system and sensors to react and control the vehicle appropriately.
Innovusion's Falcon Kinetic lidar includes numerous microelectromechanical systems (MEMS), a Xilinx multi-processor system-on-chip (MPSoC) and internal and external memory for use in current and future vehicles.
The following is a partial deep dive into the lidar by TechInsights.
Summary
2 GB Mobile LPDDR4 SDRAM
128 MB NOR flash
Multiple sensors
Availability: Global
Price: $13,499
Release date: January 2022
Target market: Automotive
Main board
The main board of the Innovusion Falcon Kinetic lidar includes the Xilinx UltraScale+ MPSoC and Micron 128 MB serial NOR flash memory and 2 GB mobile LPDDR4 SDRAM. Other electronic components include:
Texas Instruments' power management ICs, 32-bit MCU with connectivity manager, dual-channel high-side switch and diode controller
Analog Devices' N-channel MOSFET controller and step-down converter
Rohm's N-channel dual power MOSFET
Vishay's dual n-channel MOSFET
ST Microelectronics ESD protection
3 A voltage regulator from On Semiconductor
Quad bilateral switch from Nexperia
Marvell Semiconductor's Gigabit Ethernet transceiver
Monolithic Power Systems' 36 V a buck-boost converter
(Learn more about discrete components on Globalspec.com)
Detector board
The detector board includes many amplifiers and regulators from Texas Instruments as well as Analog Devices' DC-DC converters.
Tx/Rx board
The IC components found on the Tx/Rx board feature similar components found on other boards but specifically include:
The two-input exclusive OR gate and single two-input NAND gate from Nexperia
Dual operational amplifier, rail-to-rail operational amplifiers, serial EEPROM memory and operational amplifier from ST Microelectronics
On Semiconductors' SPDT analog switch and dual buffer 300 mA/1.8 V LDO regulator, 1 A step-down DC-DC converter and operational amplifier
Vishay Siliconix's N-channel power MOSFET
(Learn more about analog ICs on Globalspec.com)
Manufacturing cost breakdown
$276.36 — Modules, discretes and connectors
$129.61 — Non-electronic parts
$84.90 — Integrated circuits
$14.53 — Substrates
$6.75 — Component insertion
$5.64 — Final assembly and test
$2.96 — Card test
Find Free Electronics Datasheets