Samsung Display has just begun mass production of the world's first OLED laptop displays with a high refresh rate of 240 Hz. The new panel will debut in MSI's latest 15.6-inch gaming laptop, the Raider GE67 HX, raising the stakes in the extremely competitive gaming display industry.
Samsung OLED's wide color range, high contrast ratio, true blacks and minimal blue light are not only appreciated by smartphone owners, but also by laptop users who know what they want in a screen. Response time and refresh rate, which affect how the game is played, are more important to gaming laptop consumers than how it looks. Therefore, many players are choosing OLED lines.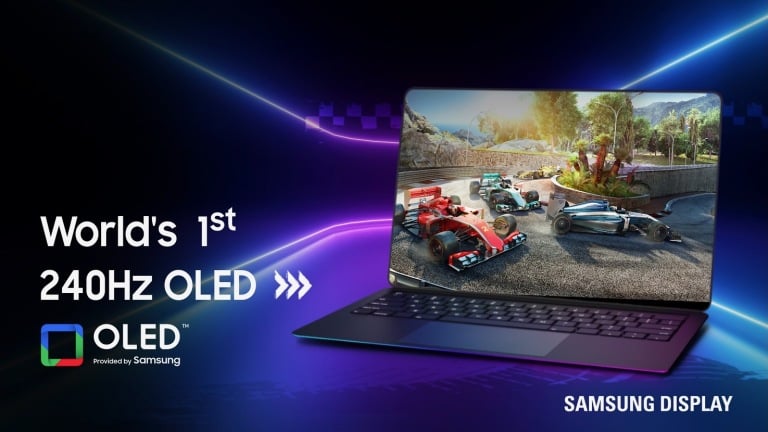 A game changer for the gaming industry. Source: Samsung Display
"OLED with high refresh rate is the perfect combination for a premium gaming experience, with super-low response time, super-wide color gamut, and super-high contrast ratio. In addition, it balances well between high resolution and high refresh rate performance," said Clark Peng, vice president of MSI notebook product management division. "Therefore, the latest 240 Hz OLED display is suitable for high-performance enthusiasts and content creators as well as for gamers enjoying premium games," he added.
OLED display technology preferred by serious gamers
The number of times a display can update its image in one second, or its "refresh rate," is a crucial part of how well it works. The smoother the movement on a display without afterimages, the greater the refresh rate. First-person shooter (FPS) players who experience quick-changing game scenarios rely on those lightning-fast refresh rates to make gaming go smoothly, especially when toggling between multiple images.
"Our new 240 Hz refresh rate OLED meets and exceeds the demand of consumers who have long been waiting for a laptop with a high refresh rate OLED panel," said Jeeho Baek, executive vice president and head of Samsung display strategic marketing for small and medium business. "The clear advantages offered by high refresh rate OLED panels compared to LCDs will be a game changer for the gaming industry."