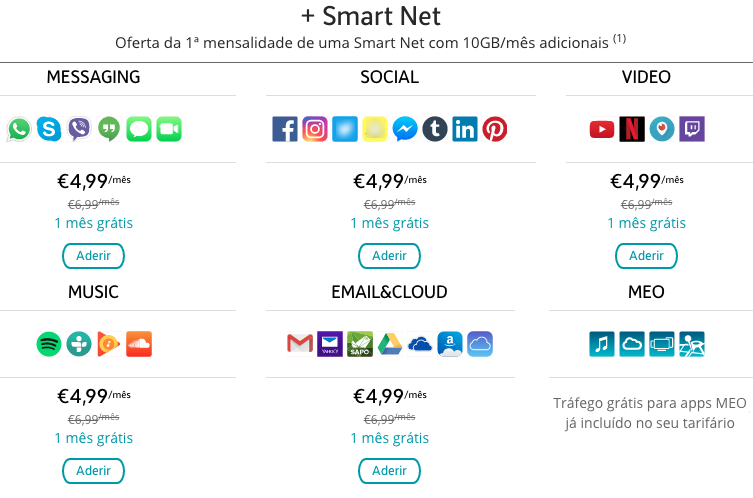 Bundling the internet. Source: Meo/public domainThe term "net neutrality," coined in the early 2000s, comes from the "common carrier" concept. A common carrier is an entity governed by regulation that offers equal public access to its services. In the United States, for instance, telecommunications carriers are regulated by the Federal Communications Commission (FCC).
It was not until 2015 that the FCC classified internet service providers (ISPs) as common carriers. The basic principle is this: ISPs are unable to intentionally block, slow down or charge money for specific websites or online content. In December 2017, under the leadership of new chairman Ajit Pai, the FCC reversed their earlier decision, voting to repeal net neutrality. The issue has now become a political battle.
Critics say that:
Broadband providers might start selling the internet in "bundles," similar to cable television. The screenshot above illustrates bundled smartphone contract offerings from Portuguese internet service provider Meo. The New York Times recently reported on various ways that telecoms in Europe have "pushed the boundaries" of the EU's existing net neutrality rules.
Conglomerates that can afford faster service tiers will have an edge over smaller rivals and startups.
ISPs will be able to block political voices they don't agree with. This could include the LGBTQ community, religious minorities and people of color.
Advocates say that:
Ending regulation will promote competition and lead to innovation.
Broadband providers will have more incentive to build networks to underserved areas.
The repeal of net neutrality will ultimately help the economy.
Some say that without net neutrality, the internet isn't really the internet. Others say the internet as we once knew it — the open forum giving a voice to anyone with a connection — is already gone, thanks to domination by large companies — such as Amazon, Apple, Facebook, Google and Microsoft — controlling its infrastructure.
What do you think? Let us know in the comments.