Graphtec America announces the new high-speed, high-voltage GL980 datalogger. The eight-channel GL980 offers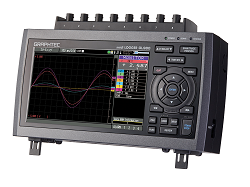 Source: Graphtec America isolated, analog inputs that are individually configurable for 500 VDC, 250 Vrms or temperature inputs. Simultaneous sampling rate of 1MS/sec across all eight channels as well as four digital inputs up to 100 kHz can be recorded to a 4-GB onboard memory with USB and SD memory card support built in.
GL980 is equipped with an isolated input mechanism to protect signals from interference caused by noise from other channels. With robust triggering, alarms and EU scaling, all in a portable package that can run on stand-alone batteries with a 7-inch color display or with host PC, the GL980 is built to provide versatility for numerous applications.