Sager Electronics, a distributor of interconnect, power and electromechanical components and provider of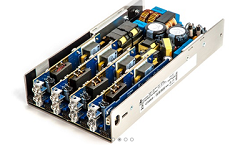 Source: Sager Electronicsvalue-add solutions, is now stocking the CoolX600 NFF Series convection-cooled modular power supply from Excelsys.
The CoolX600 NFF Series is the new convection-cooled modular power supply platform from Excelsys Technologies, which delivers an incredible 600 W without fan-assisted cooling from a very compact 8.5 x 4.5 x 1 U package. The only fanless modular power supply on the market, the CoolX600 offers system designers best-in-class efficiency and reliability in addition to the most comprehensive feature set and specifications available.
The CoolX600 can be populated with up to four CoolMods, providing up to four isolated DC outputs ranging from 2.5 V to 58.0 V. The platform offers maximum flexibility with analogue and digital control, and outputs can be configured to the required set point voltages and connected in parallel/series for higher output current/voltages. The CoolX platform is completely user field-configurable so customers can configure and reconfigure without voiding warranty or affecting safety. Mounting options include base, side and DIN Rail alternatives.
Excelsys' CoolX600 NFF Series is in stock at Sager Electronics, headquartered in Middleborough, Mass.