Industrial Electronics
Sager Offers 150-watt ITE and Medical Approved AC-DC Power Supplies
05 March 2018
Sponsored content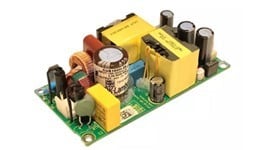 Source: Sager ElectronicsTDK-Lambda's CUS150M 150-watt AC-DC power supplies are medical and ITE approved power supplies with a compact 2" by 4" footprint. The CUS150M open PCB version provides a 150-watt output with forced air cooling of 1 meter per second and 120 watts at 40 C ambient with convection cooling. The U-channel versions of this TDK-Lambda series provide 150 watts at up to 50 C ambient without any forced air cooling when mounted to a chassis.
CUS150M meets ITE and Medical Certifications (2 x MOPP) and also meets Class B levels for conducted and radiated EMI. This AC-DC power supply series is ideal for Class I and Class II installations and is available with 12-volt to 48-volt outputs. CUS150M features efficiency up to 94 percent and off-load power consumption of less than 0.5 watts.
CUS150M Features:
85 to 264 VAC input voltage
12-, 24-, and 48-volt output voltages
Output power
120- to 150-watt convection, conduction or forced air cooled
150-watt convection rating (U-channel version)
2" by 4" footprint
Class B conducted and radiated EMI
ITE & Medical Certifications (2 x MOPP)
Suitable for Class I and Class II installations
Suitable for BF-rated equipment
Up to 85 C ambient operation
CUS150M Applications:
Medical
Industrial
Test
LED
Broadcast
The CUS150M is in stock at Sager Electronics.
Find Free Electronics Datasheets