Excelsys Technologies
 has announced the CoolX600 Series of convection-cooled modular power supplies, which produce a 600 W output
without
 using fan-assisted cooling. The 
CoolX600 Series
 offers system designers conversion efficiencies of up to 94% and comes in a compact 8.5 x 4.5 x 1U package. The completely user-field-configurable CoolX600 Series allows customers to configure and reconfigure without voiding the warranty or affecting safety.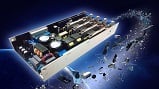 CoolX600 Series of convection-cooled modular power supplies. Source: Excelsys Technologies
Designed to meet both medical and industrial global safety specifications at 5,000 meters altitude, the CoolX600 Series can exceed 93% efficiency even in harsh, remote applications subject to input voltage line surge disturbances of up to 300 VAC. In addition to achieving 600 W output with fan-less natural convection cooling at up to 40° C ambient with no derating, the series can enhance thermal performance using system fans or external conduction cooling. This increases system reliability and results in system lifetimes that are typically 25% longer than the system lifetimes of competitors. For harsh environments, the CoolX600 Series offers high-input surge protection of 4 KV and reverse energy protection without using blocking diodes. It also offers a 25 W standby power output as a standard feature to effectively provide another output for system intelligence, cooling fans, display and so forth, which increases flexibility.
The CoolX600 Series features <300 uA leakage current and full safety certifications to UL/EN60950 and UL/EN60601 for industrial and medical applications. Medical certifications include IEC60601-1-2 4th edition (EMC), BF (Body Floating) rating, dual fusing and 2 x MOPP. For industrial certifications they include EN60950, EN62386-1, ISO9000 and SEMI F47 and, for defense and aerospace applications, they include MIL810G and MIL461 certification and CE101/102. The supply carries a five-year warranty.
The power supplies allow for analog and digital management with PMBus monitoring and control capability. They are user-field-configurable with plug-and-play modules. All outputs are isolated and may be connected in series or parallel to achieve higher output voltages or currents. Mounting options include base, side and DIN-rail alternatives.
List price for the supply is $290 each in OEM quantities with delivery of 8 to 10 weeks ARO.