Facebook will be creating a portal to help its community of users learn whether any of the posts they liked or followed were Kremlin-connected Internet Research Agency Facebook Pages or Instagram accounts created between January 2015 and August 2017.
The tool will be available by the end of the year in the Facebook Help Center.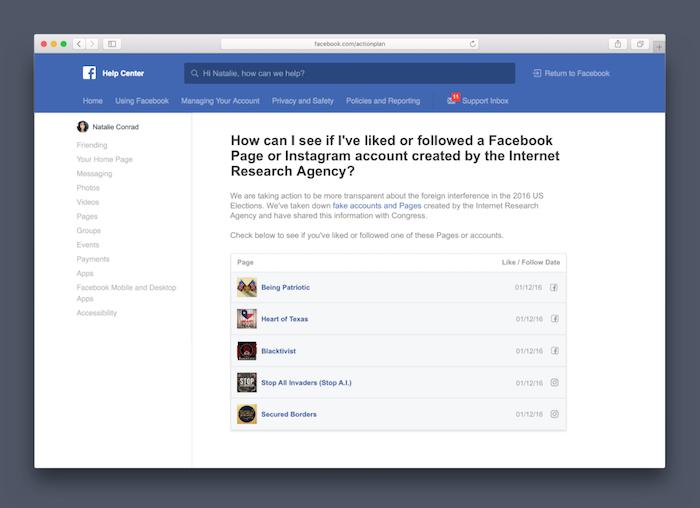 A Facebook tool that will help users identify whether they liked were Kremlin connected.
The IRA, known in Russian Internet slang as the "Trolls from Olgino," is based in Saint Petersburg, Russia. It is tied to the Russian government and engages in online influence operations. During the 2016 U.S. election, the ads appeared to focus on amplifying divisive social and political messages across the ideological spectrum — touching on topics from LGBT matters to race issues to immigration to gun rights. A small portion of the ads, which began in the summer of 2015 and continued through the Presidential election season, directly named Republican nominee Donald Trump and Democrat Hillary Clinton.
A Facebook blog post from Nov. 22 expained: "It is important that people understand how foreign actors tried to sow division and mistrust using Facebook before and after the 2016 US election. That's why as we have discovered information, we have continually come forward to share it publicly and have provided it to congressional investigators."