After 18 months on the campaign trail, the U.S. presidential election is finally here. And with it comes a night where the American public waits for results across the country to determine who the next president will be, who will win Congressional seats and the fate of individual state propositions.
Technology is playing an interesting role in this year's election and is changing how people can view election results on a state-by-state basis.
Google and Youtube are looking to capture people's attention with the ability to find election results integrated into the search engine and on the popular video site. Google is offering results in more than 30 languages with detailed updates not just on the presidential election, but also the U.S. Senate, House of Representatives and local gubernatorial races. The search engine is also integrating all of the state referenda and ballot propositions.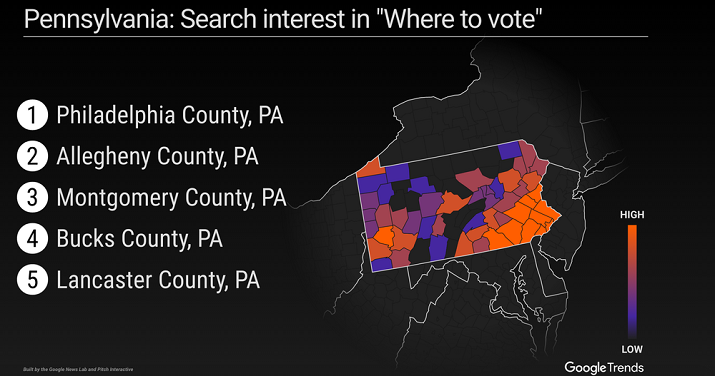 Google has been providing search engine users with information about polling places, who or what is on the ballot, and more in each state for the past few months. Source: Google Google says it has seen an increase in traffic for the search phrase "how to vote" of 233%, up from the last presidential election in 2012. Google has been posting information about the voting process, who's on the ballot and help finding local polling places for the past several months in order to educate would-be voters.
In addition to Google providing information on the election results integrated into its search engine, Youtube, which is owned by Google, will be live streaming election coverage from NBC, PBS, MTV, Bloomberg, Telemundo and more. Youtube will also be gathering videos made by people who go to vote as well as posting the latest PSAs and information from people encouraging others to go vote.
Meanwhile Facebook says it is partnering with broadcasting stations, print and online publications in order to bring information to viewers via its Facebook Live feature. Facebook says it will allow each outlet it is partnering with to provide a 15-minute live video focused on the election in all 50 states. It will also highlight results and video from outlets as well as users throughout Tuesday night as results begin to emerge.
While Facebook, Google, Youtube and Twitter all existed in 2012, much has changed in four years; the technology and immediacy of garnering information is at an all-time high. Each of these social media companies and internet powerhouses are looking to capture not just the attention of voters, but also attempting to remain relevant during a time when much of the country, if not the world, is seeking answers. Of course, this also includes garnering as much internet ad revenue as they can at a time when the public's attention is focused on a single event.