This time each year tech lovers rejoice, bracing themselves for what's to come at the behemoth consumer electronics show held in Nevada each January. Last year, CES saw a record-breaking 170,000 attendees, with 3,631 exhibitors, and 375 start-up companies displaying their technologies. As the consumer world gears up for CES 2016, held January 6 - January 9, there's speculation that unmanned systems are truly a consumer favorite, with 27 drones exhibitors displaying at the show – up from 16 last year.
The latest unmanned systems, embodying the technology that's changing how we monitor and assist in the world, will be showcased at The Unmanned Systems Marketplace (located at the Las Vegas Convention Center) where exhibitors will take up 25,000 net square feet of exhibit space, as opposed to the 12,500 net square feet that was allotted for the technology last year.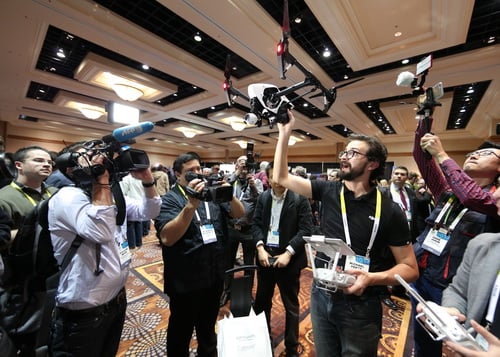 Showing off drone tech at CES 2015. (Source: CES)
"Drones have taken off in the marketplace and now represent one of the fastest growing tech categories – globally and on the CES show floor," says Gary Shapiro, president and CEO, Consumer Technology Association. "This is truly life-changing technology that will create new jobs, improve lives and transform the way we do business."
A "Who's-Who" of Drone Exhibitors
Among the 27 exhibitors, attendees can check out DJI, Yuneec, Hobbico Inc. and Squadrone Systems, Fleye, and AUVSI.
DJI, the creators of the Phantom drone, recently unveiled the latest in its drone technology – aerial thermal imaging technology, which can provide different types of sensory data for use in firefighting, agriculture, and inspection applications. The company is also opening its flagship store in Shenzhen, China, today.
Yuneec last month released its Typhoon Q500 for $1,200, a drone in competition with DJI's Phantom 3. The Typhoon Q500 4K captures 4K video in flight and comes equipped with a removable camera and a remote control that integrates a touch-screen device, so users won't have to operate from their own phones.
Sqaudrone Systems, the creators of the Hexo+ self-flying camera, will also be there. The drone works in conjunction with the HEXO+ mobile app and users can launch it, watch it hover in a default position, and then frame themselves on a live video feed. When the subject starts moving, the drone automatically follows. Hexo+ orders just began shipping this month.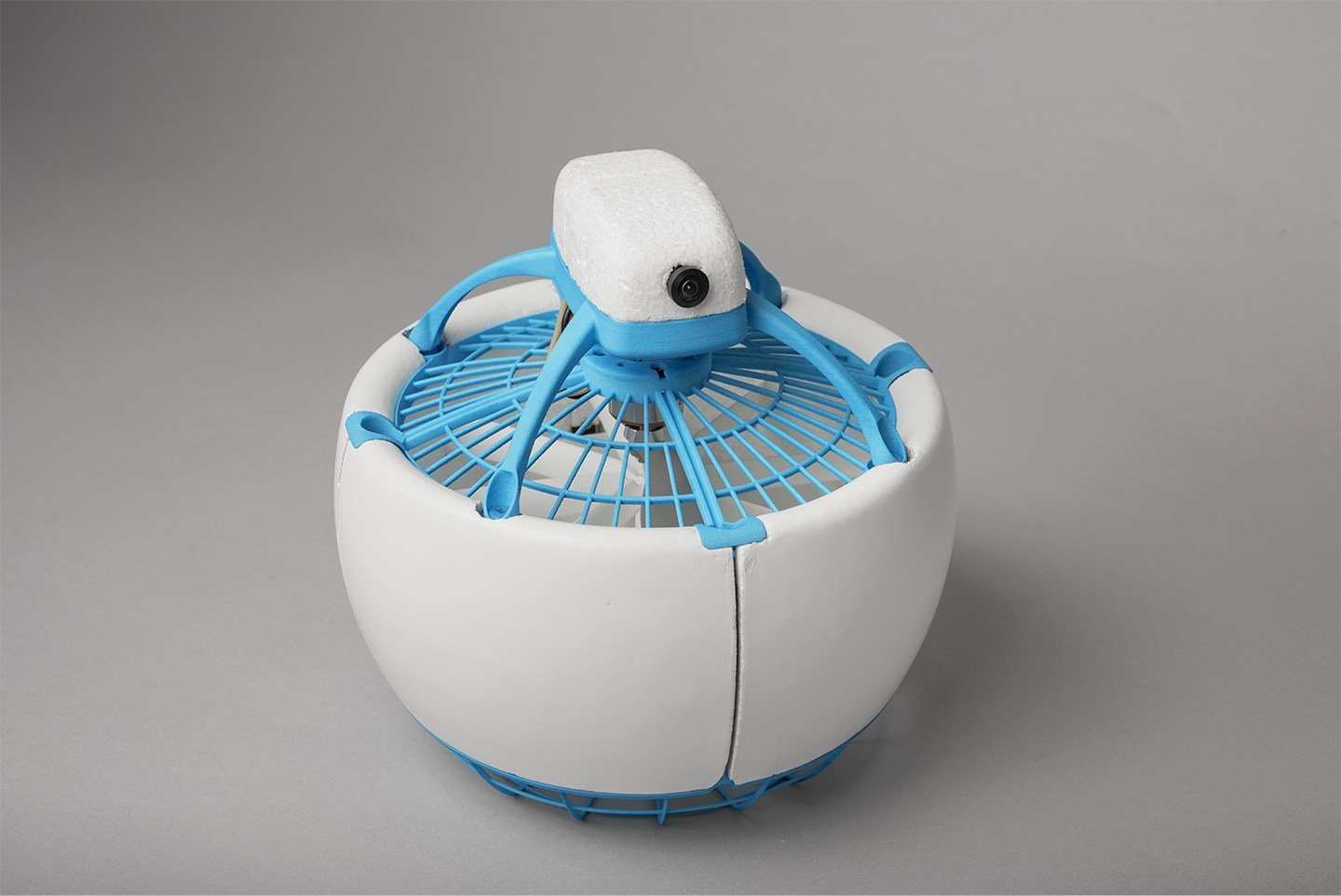 Fleye - the flying robotic camera ball. (Source: Fleye)
Makers of the robotic ball drone, Fleye, launched a Kickstarter campaign this month to raise production funds for the spherical drone that's the same size and weight as a soccer ball.
Hobbico carries drones for a variety of skill levels, including advanced pilot and beginning enthusiast, that differ in size and functionality. The company has released a flight simulator so that new pilots can practice their skills without risking their drones or leaving the house.
Last year, Stampede Presentation Products, a supplier of ProAV solutions, made its debut at CES, demonstrating an array of innovations which included drones, 3D printers, and connectivity tools capable of converting any power outlet in the home into an Ethernet port. This year the company is coming back after showing off its drone tech at shows worldwide over the past year.
ByRobot USA is a drone company that makes products like Mini Combat Quadcopters. The company was founded by Sangki Ji, a flying-robot researcher at KITECH (Korea Institute of Industrial Technology), whose team was the first to make a single ducted-fan flying robot with a gasoline engine fly autonomously in Republic of Korea.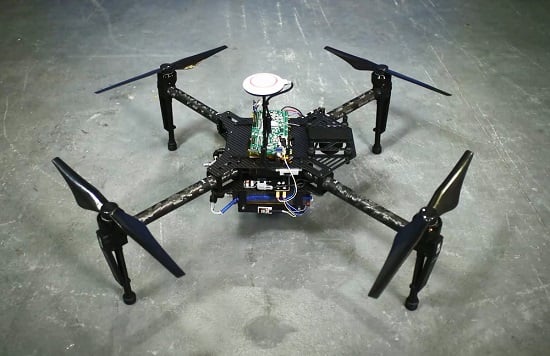 Intelligent Energy's drone prototype uses a hydrogen fuel cell powered range extender. (Source: Intelligent Energy)
In addition to the actual drones, which captivate attendees, energy technology company, Intelligent Energy, will unveil its prototype hydrogen fuel cell powered range extender for drones. The range extender will offer longer flight time and fast re-fuel capabilities – two major challenges for manufacturers of battery-powered drones.
As an added bonus, industry representatives from Unmanned Vehicle University, the first university in the world to offer degrees in Unmanned Systems Engineering, will be conducting a two-day flight training and fundamentals course ($1,499) at the Rio Hotel on the 9th and 10th. The university is now accepting registrants for the seminar on its website.
Additional exhibitors include: Advanced Aerodynamics, Autel Robotics, FAA, Extreme Filters Micro Drone, Prodrone Technology, and Uvify Inc. According to Consumer Technology Association (CTA) research, this year is set to be a significant year for drones, with 400,000 units sold this holiday season.
In addition to the show floor exhibits, CES will feature four conference sessions that focus on UAV trends and technology including discussions on drone safety and policies, which is relevant and in keeping with the FAA's new rule that owners of small unmanned aircraft weighing more than 0.55 pounds must be registered. The conferences will also take a look at the benefits of drone use.