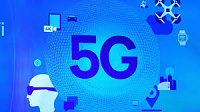 Source: Ethan Miller/Getty Images
We've all heard that the fifth generation of mobile networks and telecommunications standards will dramatically increase data transfer speed and capacities, allow a higher density of mobile broadband users and support device-to-device communication.
What exactly is 5G, and what are the emerging network system technologies that promise to deliver higher speeds and capacity and lower latency?
Do you have five minutes? That's the time it will take for Peter Gammel, CTO of Skyworks Solutions, to explain the critical components for 5G and their importance in the evolution of 5G technologies.