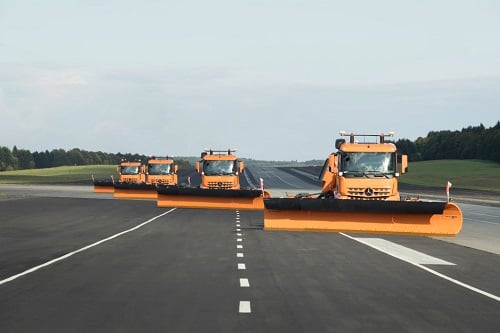 The trucks would be electric, autonomous and operated by a single operator. Source: Daimler
Daimler AG is demonstrating another possible solution for the use of autonomous commercial vehicles with a fleet of automated snow removal operations at airports.
After initially testing its system on its Highway Pilot project that enabled truck platooning, this new project, called Automated Airfield Ground Maintenance (AAGM), will utilize four Mercedes-Benz Arocs tractor units to clear airfields automatically. Daimler says the benefits of this system are vast because it is hard to predict and plan for when an airfield will need to be removed of snow.
Automated snow removal units would be able to remove snow from runways by a single vehicle operator during extreme weather conditions especially during the winter months.
"We are not just talking about new technologies, we are bringing them onto the road. Step by step we are developing our very latest assistance systems even further – with a view to automated driving," says Martin Daum, an AG Board of Management member for Daimler Trucks. "We are currently working on the implementation of two specific use cases: Firstly automated driving in quite normal traffic on motorways – with the clear aim of relieving driver workload and significantly improving safety. And secondly driverless operation in enclosed areas to significantly improve productivity. With today's demonstration of automated snow clearance on an airfield, we are once more reinforcing our claim to technological leadership."
The trucks will work closely with the Daimler CASE initiative, which stands for connectivity, autonomous driving, flexibly use and electric powertrains.
The project is being tested at Frankfurt/Main, Fraport AG one of the world's largest air traffic hubs. The testing will include the implementation of telematics-based vehicle control technology in areas not accessible to the public.