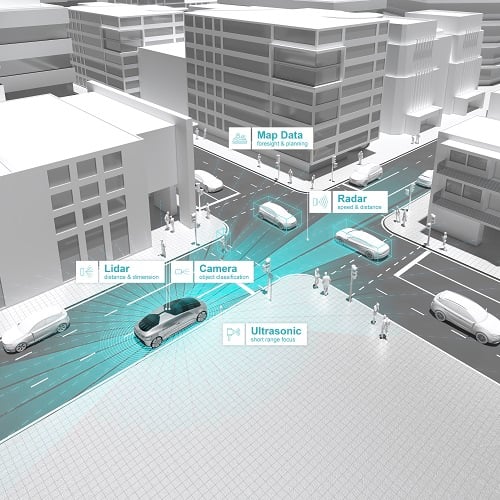 Nvidia will power the artificial intelligence platform for the test program. Source: Daimler
Robert Bosch GmbH and Daimler AG are teaming up to test a fleet of fully-automated and driverless shuttles on selected routes in California's San Francisco Bay Area. The test will provide information about how fully-automated and driverless vehicles can be integrated into a multi-modal transportation network.
The pilot project will demonstrate how mobility services such as Daimler's Car2go service, ride-hailing services such as Daimler's Mytaxi and multi-modal platforms like Daimler's Moovel can be connected to shape the future of transportation.
The companies have selected Nvidia as the supplier for the artificial intelligence platform as part of the control unit network. Bosch and Daimler will utilize their automotive experience to bring the innovations to market.
"Developing automated driving to a level ready for series production is like a decathlon," said Dr. Stephan Hönle, senior vice president of automated driving at Robert Bosch. "It's not enough to be good in one or two areas. Like us, you have to master all disciplines. Only then will we succeed in bringing automated driving to the roads and the city safely."
The companies will rely on a control unit network made up of several individual control units. Using Nvidia's AI platform to run algorithms generated by Bosch and Daimler for the vehicle's movement, the network control units collate the data from all sensors with radar, video, lidar and ultrasound technology. This will allow the data to be evaluated in milliseconds with the computing capacity of hundreds of trillion operations per second.