Kitronik, the UK-based developer of electronics project kits and learning resources for schools, has just launched its latest micro:bit compatible product: the ZIP Halo.
Designed for adding light effects, the ZIP Halo is the first in a range of Halo bolt-on boards that will expand the capabilities of the micro:bit—a handheld programmable computer created to encourage kids to be actively involved in making and coding. The micro:bit, based on the 1980s-era BBC Micro, was developed by the BBC and partners such as Kitronik. It launched in early 2016.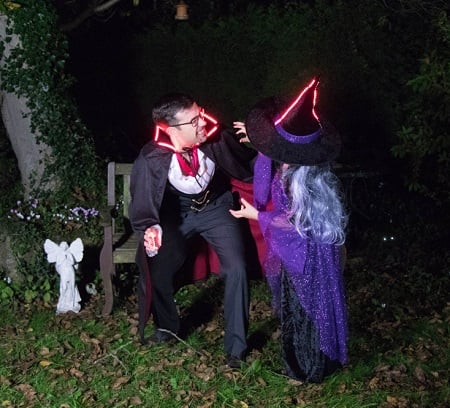 The ZIP Halo's many possibilities include lighting up Halloween costumes. Image credit: Kitronik Ltd.The ZIP Halo has a wide range of potential applications, including lighting up pedestrians and cyclists for improved visibility at night, customizing fashion accessories, embellishing home furnishings and creating personalized holiday decorations. For a tutorial on lighting up Halloween costumes, for both fun and safety, click here.
The device includes 24 individually-addressable, full-color LEDs, all connected via the same three-wire bus. Each LED can achieve 256 levels of brightness, yielding a total of 16.8 million possible color combinations. Additional LEDs can also be connected to produce longer strips or rings.
The ZIP Halo can be ordered directly from Kitronik, or through its distributor network. Pricing is £11:50 (about $15 US), excluding value-added tax (VAT).
For a datasheet on the ZIP Halo, click here.