Kitronik is a U.K.-based developer and supplier of electronics project kits and learning resources for schools, makers and coders. We recently had the chance to talk with Kevin Spurr, one of the co-founders of the company. Spurr and partner Geoff Hampson, who attended Loughborough University together, launched the company in 2005, and are still in the driver's seat today.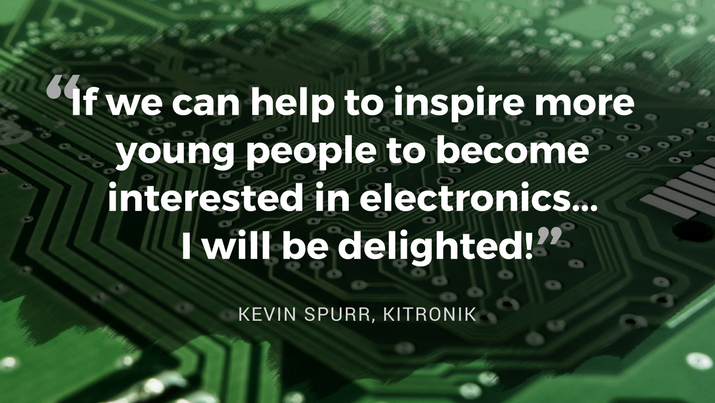 The company prides itself on helping to inspire young minds to pursue an interest in technology. Kitronik was a partner in the BBC's development of the micro:bit, a handheld programmable computer designed to encourage kids to be active in making and coding. The device debuted in the U.K. in 2016, and was recently launched in the U.S. The company is also active in wearable technology, and designed its own line of Electro-Fashion e-textiles and conductive thread.
Here are excerpts from our interview, which have been edited for length and clarity.
E360: It seems like you've taken your mission of "electronics accessible to everyone" and realized it in a number of ways. You play a role in the Maker movement, you get kids interested in electronics, you help to design products like the micro:bit and have supported disadvantaged parts of the world through the micro:bit Educational Foundation. Is there any one of those aspects of what you do that you find most rewarding?
KS: I choose to study electronics because it is an area that I am very interested in. It is a great career and there is a huge (and ever-increasing) demand for skilled people. More young people need to choose it as a career path, and if Kitronik can help to encourage this then I will be very happy.
I think some of the work being done by the micro:bit Educational Foundation is very inspiring. To see the interest in the micro:bit and what can be done using the device is exciting, and I think that it will certainly spark the interest of the next generation of engineers.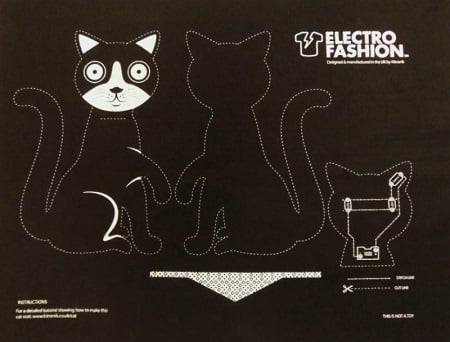 Felt pattern for the 'Electro-Fashion' Cat Kit, billed as an ideal intro to e-textiles. Source: Kitronik.E360: I understand the micro:bit recently made its debut here in the States. What's the reception been like?
KS: The micro:bit has been very well received in the U.S. The BBC is a global brand, and its link to the micro:bit has been very positive. The fact that the micro:bit can be programmed using the web-based Microsoft MakeCode editor is a big plus; I think this will help its popularity spread throughout America. I am looking forward to seeing the cool projects that are created using the device!
E360: Generally speaking, what's your process for creating a new project kit? How do you generate ideas, design them, test them, etc.? How long does it take for that process to go from an initial concept to a product ready to be shipped?
KS: Anyone is free to suggest product ideas, and a list of all these ideas is managed by the product team. Ideas are assessed for market interest, market size, customer affordability and cost to design. If we decide an idea is worth progressing, we produce prototypes. We continually reassess to ensure it meets all of the requirements we have set, until we have a finished design we are happy with. Once this is the case, all the design files and documentation are finished and passed over to the operations team for manufacture.
E360: You might not believe this, but here in Upstate New York we don't see all that much "Electro-Fashion." It sounds like it's a pretty big craze in your part of the world. Tell us more about its popularity, and what Kitronik does to help stoke the flame.
KS: The integration of electronics into textiles and fashion items offers a different angle to learning about circuits and coding. It also often attracts a more artistic personality, and we see some fantastic creations that have fused together electronics and textiles.
Our Electro-Fashion products offer a very easy way of adding light and sound to these kinds of designs. Should anyone in Upstate New York want to try it, we have resources and tutorials available on our website.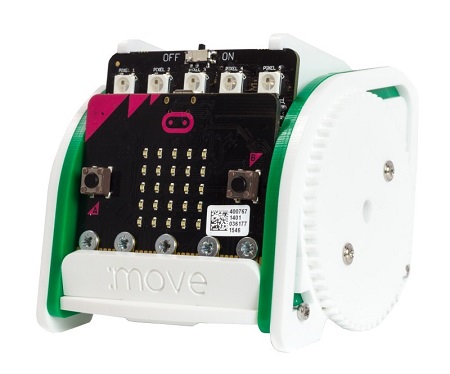 The :MOVE mini buggy kit. Source: Kitronik.E360: Of all the Kitronik products, which ones most excite you? Or, to put it another way: If I'm a user bopping around your website, what two or three things would you most want to be sure I didn't miss?
KS: The :MOVE mini buggy for the micro:bit is my current favorite. There are so many things that you can do and learn using it that there is no real limit on its shelf life.
We are working on a number of fun add-ons for this kit which will make it even more fun to use. Users can also adapt it to their own ideas.
E360: What's next for Kitronik? Anything new in the pipeline that you can tell us about?
KS: We have some great new products in the pipeline. We will soon have a 16 Servo Driver board for the BBC micro:bit. Our engineering director Dave Sanderson had a fun time testing it and made this walking robot!
We also signed a U.S. distribution deal last year, which means that our products are now distributed in America by MCM.* We are really looking forward to working more with schools and the Maker community in the U.S., and seeing what projects can be created using our products. If we can help to inspire more young people to become interested in electronics in the U.S., too, I will be delighted!
---
*Editor's note: MCM Electronics has recently partnered with Newark element 14, and now operates under the latter name.
Related: To view our own story on the :MOVE Mini Buggy, click here.