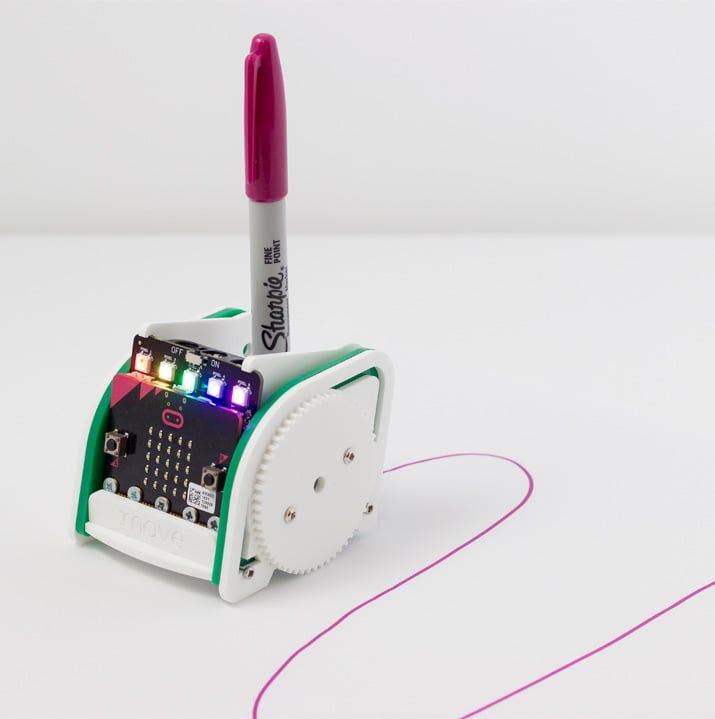 Kitronik's :MOVE Mini Buggy can be coded or controlled to draw shapes. (Credit: Kitronik)Kitronik, a developer of electronics project kits and learning resources for schools, makers and coders has launched its latest micro:bit compatible product, the :MOVE Mini Buggy.
Designed by the British Broadcasting Corporation (BBC) and partners such as Kitronik, the micro:bit is a handheld programmable computer meant to encourage kids to be actively involved in making and coding -- rather than merely being consumers of media. It builds on the legacy of the BBC Micro, which was distributed into schools in the 1980s and helped to inspire the careers of present-day technology pioneers. The micro:bit, launched in early 2016, has similarly been distributed in classrooms in the UK. An American launch is planned for mid-2017.
Kitronik created the :MOVE Mini Buggy, a two-wheeled robot powered by two continuous rotation servo motors, as an accessible introduction to robotics. It can be controlled remotely from a user's smartphone, through the built-in radio functionality of a second micro:bit or autonomously via code.
Extras such as reverse lights or a pen that can be used to draw shapes also can be added, enabling users to expand its potential uses.