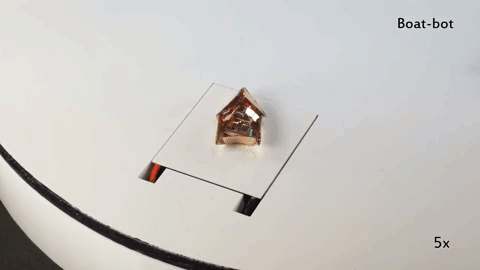 Animals in nature adapt to survive in the world. Hermit crabs can switch their shells. Butterflies can sprout wings.
When it comes to robots, they are highly inflexible and each of their parts is usually a fixed structure with a single defined purpose, which makes it difficult, if not impossible, to do a wide variety of actions.
However, researchers from MIT's Computer Science and Artificial Intelligence Laboratory (CSAIL) are seeking to change this with the development of a shape-shifting robot that can transform itself with different "outfits" that allow it to do different tasks.
The cube-shaped robot, called Primer, is controlled through magnets to walk, roll, sail and glide. These actions happen as a result of the robot wearing different exoskeletons that start out as sheets of plastic before being heated up to fold into different shapes. Once the robot finishes the task, it sheds the exoskeleton in water, dissolving the skin.
"If we want robots to help us do things, it's not very efficient to have a different one for each task," says Daniela Rus, CSAIL director and principal investigator of the project. "With this metamorphosis-inspired approach, we can extend the capabilities of a single robot by giving it different 'accessories' to use in different situations."
The robot can become a wheel-bot that can move twice as fast as a walking robot. It can become a boat-bot that can float on water and carry twice its weight. A glider-bot can fly across long distances, which could be useful in deploying the robots or switching environments.
MIT researchers say Primer can wear multiple outfits at once. It can add one exoskeleton to become a walk-bot and then interface with a larger exoskeleton to carry objects and then move two body lengths per second.
"Imagine future applications for space exploration, where you could send a single robot with a stack of exoskeletons to Mars," says MIT postdoc Shuguang Li, one of the co-authors of the study. "The robot could then perform different tasks by wearing different 'outfits'."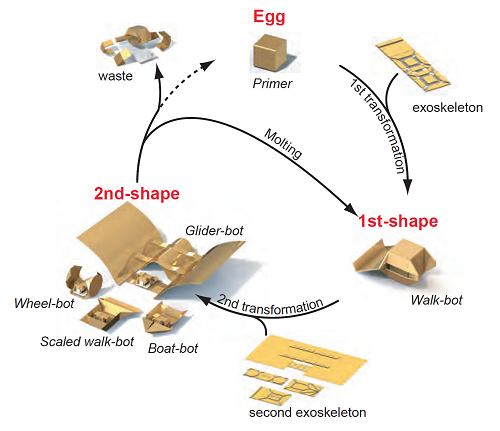 The pattern of how the robot can change its shape. Source: MIT CSAILMIT sees many potential applications for robots that can perform multiple actions with just a quick costume change. For example, a single robot with multiple exoskeletons could move equipment across a stream, shed the first exoskeleton, and emerge with a second exoskeleton optimized for carrying objects on the other side. This would take the place of using two robots.
"Our approach shows that origami-inspired manufacturing allows us to have robotic components that are versatile, accessible and reusable," says Rus.
The next steps involve researchers exploring giving the robots a wider range of capabilities, from driving through water or burrowing in sand to camouflaging their color. MIT also believes this could lead to a robotics community that shares open-source designs for parts much in the same way that 3D printing enthusiasts trade ideas on sites such as Thingiverse.
"I can imagine one day being able to customize robots with different arms and appendages," Rus says. "Why update a whole robot when you can just update one part of it?"
The full research can be found in the journal Science Robotics.