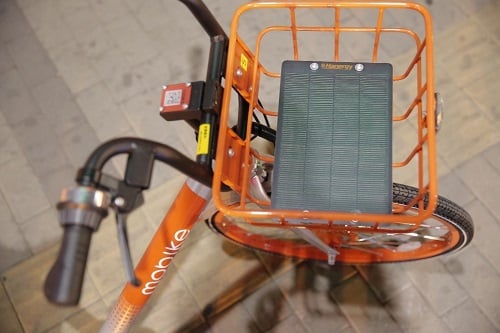 The solar panels will power smart locks and other options on the bikes. Source: Hanergy
Thin-film solar cell vendor Hanergy Holding Group has signed an agreement with bike-sharing company MTbike to integrate solar panels into the body of more than 10 million bicycles in the next three years.
Previously, Hanergy established similar deals with Mobike and 99 Bicycle for similar solar panel bikes. The agreement with Mobike includes the establishment of a joint lab to develop mobile energy technologies. The 99 Bicycle deal will help the company to produce more than five million bikes using Hanergy panels over the next two years.
"Mobile solar energy applied to the sharing economy has huge potential to transform the transportation industry and many others," says Li Hejun, chairman of Hanergy.
The solar panels are thin, light, flexible and resilient with higher conversion rates compared to crystalline silicon solar cells, Hanergy says. The panels will be used to power the smart locks on the bikes and to power other features such as handlebars and motor locks installed in bikes of the future.
Because bicycle ride-sharing involves high frequency usage and long-time exposure to open air, the solar panels can operate under extreme conditions such as heavy vibrations from rough roads and crashes as well as heavy rains.
Recently, Hanergy signed an agreement with Audi to jointly introduce integrated thin-film solar cells in the panoramic roofs of Audi cars. The panels will result in prolonged endurance mileage by feeding solar energy into the internal vehicle electrical system such as air conditioning and other electrical appliances.