Mouser Electronics, Inc., is now stocking the SmartBond™ DA14681 wearable development kit from Dialog Semiconductor. The flexible kit provides the hardware and software that is required to help manufacturers minimize time to market when creating next-generation wearable devices.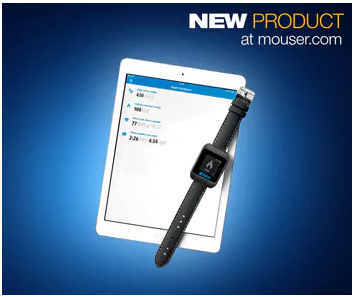 (Mouser)
The Dialog SmartBond DA14681 wearable development kit comprises a complete hardware and software design for a wrist-worn wearable that offers heart rate monitoring, activity tracking and environmental sensing. The kit is based on high-performance, low-power SmartBond DA 14681 system-on-chip (SoC), which combines flexible processing power integrated battery charging, high-level data security, and advanced applications. The kit has a range of sensors, including a 6-axis accelerometer and gyroscope, 3-axis digital geomagnetic sensor, and a temperature, humidity and pressure sensor. It also has a 128x128 pixel ultra-low-power LCD screen, capacitive touch button and support for NFC payment. The kit enables manufacturers to start prototyping without requiring extra hardware.
The kit comes with a complete software package that is designed for wearables. It comes with advanced algorithms for sensor fusion, activity classification, sleep monitoring and more. The kit has an easy setup with full documentation and tooling, which allows engineers to start prototyping out of the box.
To learn more about this product, visit the Mouser site here.