Airbus, an international pioneer in the aerospace industry, and Arconic, a global technology, engineering and advanced manufacturing company, have achieved a 3D printing first—the installation of a 3D printed titanium bracket on a series production commercial aircraft, the Airbus A350 XWB. These parts for Airbus's newest widebody aircraft are being 3D-printed at Arconic's additive manufacturing facility in Austin, Tex.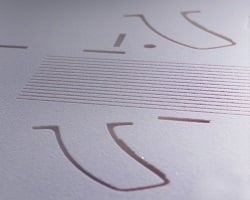 (Source: Arconic)This first installation of a 3D-printed titanium part on a series production Airbus commercial aircraft marks a milestone for additive manufacturing in aerospace. While airplane manufacturers have been using 3D-printed parts for quite some time, largely for components inside the cabin, equipping airframes with metal parts produced via additive manufacturing is new.
Airbus's installation of this bracket on a series production commercial airplane, as opposed to a test airplane, marks a significant step forward in the qualification of more complex 3D-printed parts for production aircraft. Such parts, including metal printed cabin brackets and bleed pipes, are already flying on Airbus A320neo and A350 XWB test aircraft.
This 3D-printed titanium bracket is part of an ongoing partnership between Airbus and Arconic. Last year, Arconic announced three agreements with Airbus to produce titanium and nickel 3D-printed parts for commercial aircraft, including the A320 platform and A350 XWB. These agreements draw on Arconic's cutting-edge 3D printing technology capabilities, including laser powder bed and electron beam processes.