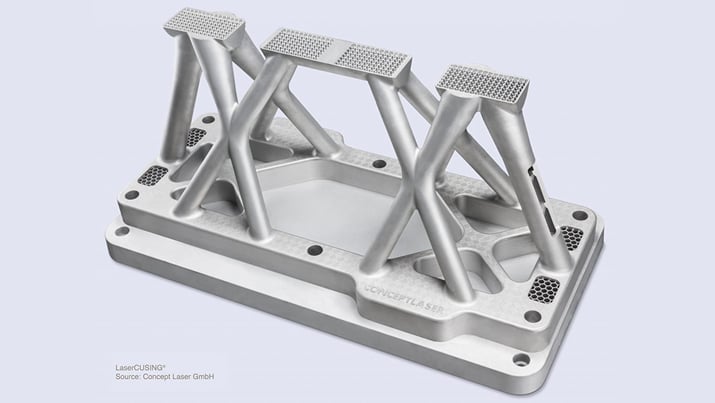 The first demonstrator version of the new 3D metal powder printer will be able to make parts up to one meter long in at least two directions. (Credit: Concept Laser)GE Additive, a business founded in 2016 and dedicated to supplying 3D printers, materials and engineering consulting services, has announced that it is developing the world's largest laser-powered 3D printer that prints parts from metal powder.
"The machine will 3D print aviation parts suitable for making jet engine structural components and parts for single-aisle aircraft," says Mohammad Ehteshami, vice president and general manager of GE Additive. "It will also be applicable for manufacturers in the automotive, power, and oil and gas industries."
The largest metal powder printer is currently made by the German company Concept Laser. In 2016, GE acquired a majority stake in the company and folded it into GE Additive. Concept Laser designed the 3D printer that creates the wing brackets on the Airbus A350 XWB; engineers from the company will work on the new machine together with GE experts.
Machines such as these fuse together fine layers of powdered metal with a laser beam and print three-dimensional objects directly from a computer file. There are few limits on the final shape of the object, which eliminates the need for factories filled with specialized machines or expensive tooling.
"This is an engineer's dream," says Ehteshami.
The first demonstrator version of the new printer, named ATLAS, will be able to make parts up to one meter long in at least two directions from titanium, aluminum and other metals. The production version, not yet named, will extend the one-meter measurement to a third dimension as well.
GE Additive made the announcement at the Paris Air Show in June 2017, and plans to unveil the machine in November at the formnext conference in Frankfurt, Germany. Ehteshami added that there are customers collaborating with the company that will receive beta versions of the machine by year's end. The production version is expected to be available for purchase in 2018.
Related: 3D Printing Makes This Turboprop Fly through Production