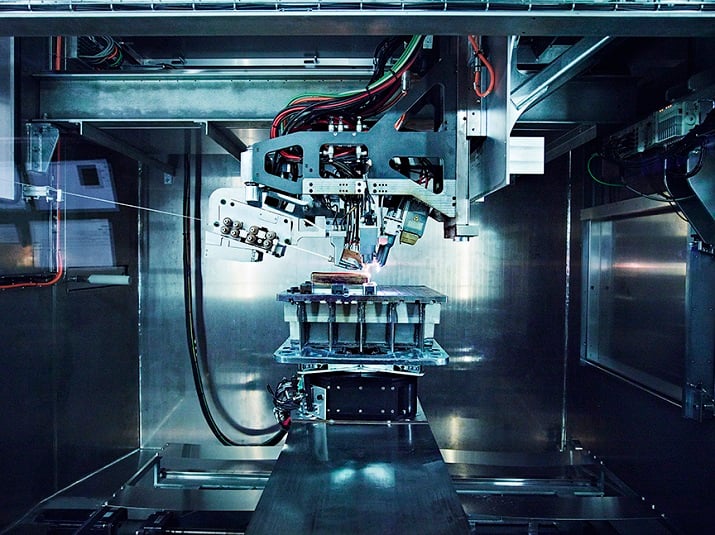 The MERKE IV RPD machine produces titanium components for Boeing's 787 Dreamliner. Source: Norsk TitaniumNorway additive manufacturer Norsk Titanium AS has received its first production purchase of its 3-D printed structural titanium components from Boeing that will use the materials for its 787 Dreamliner passenger aircraft.
Produced using Norsk's Rapid Plasma Deposition (RPD) process, the 3-D printed titanium aircraft components underwent rigorous testing from the Federal Aviation Administration (FAA), with certification coming this past February.
The RPD process refines the titanium into pure wire. Then using a robotic layer-building process, the titanium wire is melded in an inert argon gas environment and monitored 2,000 times per second for quality. The RPD parts are completed by machine centers each producing 22 metric tons of aerospace-grade components in what Norsk claims is 75 percent less time and cost of forging.
Norsk believes the material can be used for future projects in the defense or wind, oil and gas industries as well as in the development of new auto sports vehicles or shipping liners.
Norsk will display the Dreamliner RPD components at the International Paris Airshow taking place June 19-25 along with a full-scale mock-up of the MERKE IV RPD machine used to produce the titanium components for Boeing.
"From the outset, the 787 has been the hallmark of innovation and efficiency," says John Byrne, vice president, Airplane Materials and Structures, Supplier Management at Boeing in a statement. "We are always looking at the latest technologies to drive cost reduction, performance and value to our customers and Norsk Titanium's RPD capability fits the bill in a new and creative way."