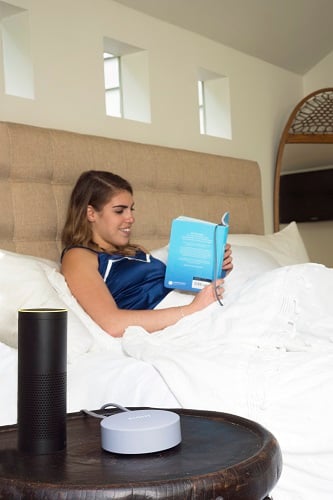 "Alexa, warm up my bed." Source: EightIn case there wasn't enough you could already do with Amazon's Alexa home automation portal, users can now use the smart home device to control smart sleep-tech products from Eight.
Eight's smart mattresses and smart mattress covers can now be enabled for voice-control commands via a new Alexa skill. The home portal can tell users how they slept in the previous night or control bed temperature to heat either side of the bed using voice commands such as "Alexa, warm up my bed" or "Alexa, how did I sleep last night?"
"With more than 10 million Amazon Echo and Dot users, we saw a demand for a seamless smart home experience to be brought also to the bedroom," says Matteo Franceschetti, CEO of Eight. "By adding this capability, we are offering customers a fully integrated sleep system that fits un-intrusively into their lives."
While getting a sleep score, sleep data and bed warming are the only available commands now, Eight says it plans to release more commands later this year.
Just last month, Eight released two new smart mattresses, the Saturn+ and Mars+ that include non-wearable sensors and are equipped with sleep tracking, dual zone warming, smart alarm and smart home connectivity. Eight's smart sleep-tech can be integrated with any internet of things (IoT) device via IFTTT (If This, Then That).